Jordan Sloan: Bangor swimmer sixth in European Short Course final
Last updated on .From the section Swimming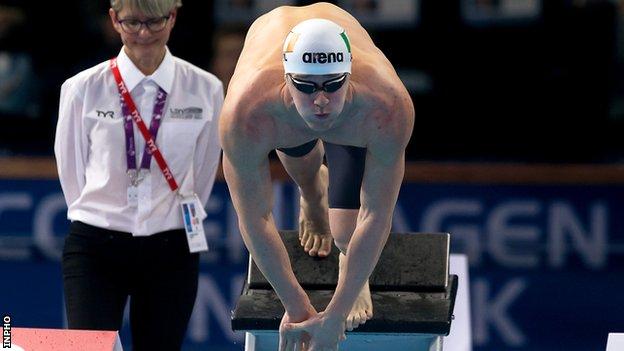 Bangor swimmer Jordan Sloan produced a brave swim to finish sixth in the 200m freestyle final at the European Short Course Championships in Copenhagen.
After setting a new Irish record in the heats to qualify third fastest, Sloan, 24, led early on in the final before dropping out of the medal places.
Sloan's time of one minute 44.12 seconds was .86 slower than his heat.
Lithuania's Danas Rapsys took gold in 1:40.85 ahead of Russia's Aleksandr Krasnykh and Britain's Duncan Scott.
Krasnykh clocked 1:42.22 with Scott finishing in 1:43.07 while Estonia's Kregor Zirk [1:43.84] and Dutchman Kyle Stolk [1:44.03] were also ahead of Sloan.
Winner Rapsys had looked the clear favourite after producing 1:41.89 in the heats which was more than a second ahead of next fastest Scott.
Russian Krasnykh, who won bronze at this year's World Long Course Championships, added the 200m silver to his 400m freestyle gold on Wednesday.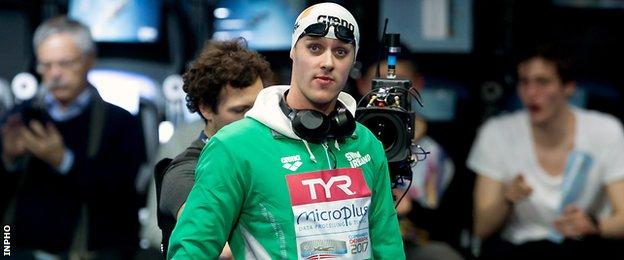 Sloan happy after reaching first major final
Sloan was content with his performance after reaching his first major championship final.
"Obviously the time's not as quick as I went this morning but I gave myself a chance," said Sloan.
"I went out after it and I was still in the mix at 150 metres. I was just a little bit tired over the last 50 metres but for my first final I'll take it and I'm happy with it."
Sloan's impressive performance in Copenhagen came a week after he achieved a Commonwealth Games nomination time at the Ulster Long Course Championships in Bangor.
Sloan's Ireland team-mate Brendan Hyland finished 37th in the event after posting a time of 1:47.68.
Ferguson and Hill in action
Another Commonwealth Games contender Conor Ferguson finished 37th in the 100m backstroke after clocking 53.32 seconds while Larne's Danielle Hill, who has also achieved a Gold Coast nomination time, was 43rd in the 100m freestyle heats after finishing in 56.55 seconds.
Alex Murphy was only 0.10 seconds outside Andrew Bree's Irish record set 10 years ago as he clocked 2:08.05 to finish 16th in the 200m breaststroke, with only the top eight making the final.
Murphy's team-mates Darragh Greene [2:11.02] and Nicholas Quinn [2:12.68] finished 26th and 29th in the same event.
Sligo woman Mona McSharry swam a 100m individual medley best of 1:01.90 as she finished 18th to miss out on a semi-final place by 0.27.
McSharry and Hill then joined Conor Brines and Calum Bain in the first time Ireland were represented in a senior mixed medley replay event on the international stage as the quartet set a national record of 1:43.15 to finish 16th.