Danielle Hill: Larne teenager becomes Ireland's fastest female swimmer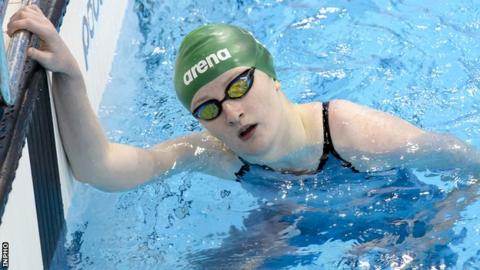 Larne teenager Danielle Hill became Ireland's fastest ever female swimmer as she broke Julie Douglas' 15-year-old national 50m freestyle record.
Hill, 17, cut 0.08 of a second off the 2002 mark set by Douglas as she clocked 25.94 seconds in Bangor.
Her Larne team-mate Conor Brines, 21 set his first Irish long course record in the 100m butterfly at the Swim Ulster Dave McCullough Memorial Gala.
Brines' time of 53.34 took 0.25 off Brendan Hyland's previous mark.
Curtis Coulter completed a 50m and 100m freestyle double with him comfortably holding off Loughborough's Sam Irvine (23.63) to win over the shorter distance in 23.29 seconds.
Mona McSharry completed a hall of five wins at the meeting as she triumphed in the 50m breaststroke (31.56).
The Sligo woman had earlier taken breaststroke gold over the 100m and 200m in addition to victories in the 100m freestyle and 200m individual medley.
Stirling's swimmers Charlie Boldison and Kathleen Dawson both completed backstroke clean sweeps at the Bangor meeting as they won the 50m, 100m and 200m events.
Another visitor, Loughborough's Charlotte Atkinson ducked under 60 seconds in the 100m butterfly as she took victory in 59.09 ahead of Ards' Emma Reid (1:01.77).
The next major home meeting for Ireland's swimmers will be the Irish Open Championships in Dublin from 6-9 April.