British Swimming Championships: O'Connor qualifies for Worlds

By Nick Hope
BBC Olympic sports reporter in London
Last updated on .From the section Swimming
Siobhan-Marie O'Connor won her second title of the British Championships with victory in the 200m individual medley.
"The time was a challenge, but I am just very happy to make the team," she told BBC Sport.
Jazz Carlin also won her second title of the event, following up her 400m gold with success over 800m.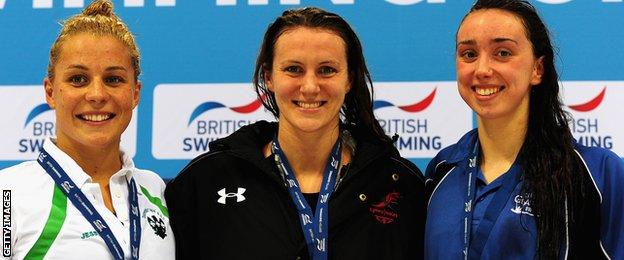 The 2015 British Championships are the first elite swimming event to be hosted at the London Aquatics Centre since the 2012 Olympics.
English Commonwealth champion O'Connor finished ahead of Scotland's Hannah Miley, who was second, and Aimee Willmott.
Teenager O'Connor competed at her first senior World Championships in 2013 in Barcelona and is determined to make a bigger impact at July's event in Kazan, Russia.
"Last time I made a final, but wasn't that happy with my performance," said the Bath-based swimmer, who will contest the 200m freestyle event on Saturday.
"I just want to go to Russia and perform a bit better - and maybe pick up a medal, that would be nice."
The pressure was off Carlin in the 800m final, as she had already secured her place on the plane to Kazan with her time in the 400m competition on Wednesday.
She lead throughout the longer distance event, finishing in eight minutes, 21.58 seconds, to beat Jessica Thielmann (8:32.19) and Camilla Hattersley (8:37.99).
"I felt quite heavy and I didn't really feel like I got into my stroke tonight," Carlin told BBC Sport.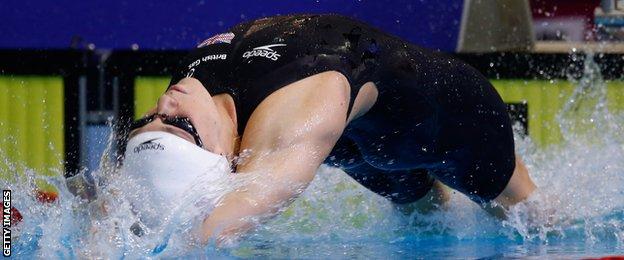 "Back-to-back racing is quite tough, but I have a day off now before the 200m on Saturday where hopefully I can push Siobhan a little."
Former European and Commonwealth champion Elizabeth Simmonds, who has struggled with fitness and form for the last couple of seasons, announced her return in the 100m backstroke final.
Simmonds, who last won the event in 2010, pushed Lauren Quigley and Francesca Halsall into second and third respectively.
Defending champion Georgia Davies of Wales was a surprise fourth.
"That has done my confidence the world of good," said Simmonds after her win in one minute, 0.03 seconds.
"The 200m is my main event and hopefully I can get the qualifying time there, but I'm feeling strong again which is great."
Scotland's Craig McNally reclaimed the British 200m backstroke title he last won in 2013, but his time of 1:57.58 was not quick enough to qualify for the Worlds.
USA-based Joseph Patching was second, with Youth Olympic bronze medallist Luke Greenbank third.
Stephen Milne took victory in the gruelling men's 1500m event, but his time of 14 minutes, 58.25 seconds was eight seconds short of the qualification mark.
Caleb Hughes and Jay Lelliott took silver and bronze respectively.