Sycerika McMahon fails to make 200m breaststroke semi-finals
Last updated on .From the section Swimming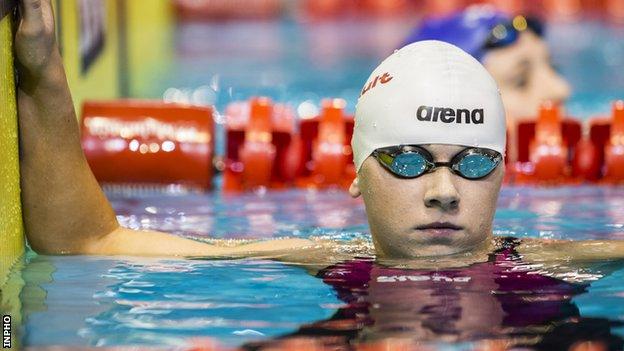 Sycerika McMahon failed to make the semi-finals of the women's 200m breaststroke at the European Championships in Berlin on Thursday.
The Portaferry teenager was unable to progress from the heats after finishing seventh of 10 swimmers from lane one in heat two in a time of 2:31.81.
The 19-year-old narrowly missed out on setting a new 200m individual medley personal best on Wednesday.
McMahon will be in action in her main event the 50m breaststroke on Saturday.
The Northern Irishwoman was 1.04 seconds outside a semi-final spot in Thursday's event as she finished 21st overall while team-mate Fiona Doyle was a further .42 back in 23rd spot.
Thursday's performance came after McMahon finished in an encouraging 12th place overall in Wednesday's 200m individual medley event.
After qualifying 13th for the 200m individual medley semi-finals with a 2:15.46 clocking in the morning, McMahon improved to 2:14.42 in the evening.
That was only .04secs outside her personal best set last year.
The County Down swimmers's time was .74 outside a qualification spot but after her recent struggles in the Commonwealth Games and early exit from the 100m breaststroke on Tuesday, Wednesday's performance represented progress.
The Irish team member won silver in the event at the 2012 European Championships in Debrecen.
McMahon was not best pleased with her performance on Thursday but maintains high hopes of better things to come.
"That wasn't the greatest to be honest," said McMahon after the morning's heats.
"It's ok though, I have the 50 breaststroke coming up and that's the one I always love to do. It's just a splash and dash and I'm looking forward to that."
"I'm hoping to make the 50 final but we just need to take this one step at a time. I'll talk to my coach and see where things go from there."