GB synchronised swimming squad ready for first international event
Last updated on .From the section Swimming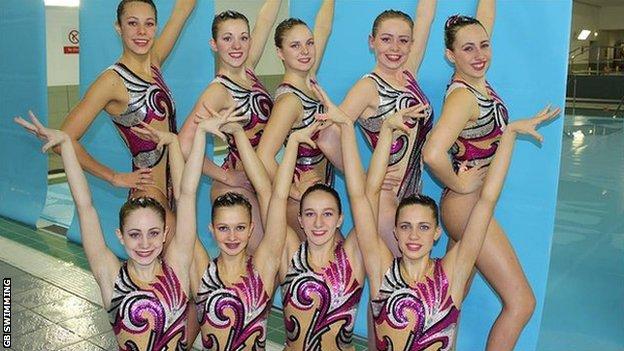 The new-look GB synchronised swimming squad are in Paris for their first international competition together, after UK Sport's decision not to reinstate the squad's funding.
The team are based at their high performance centre in Aldershot.
They have spent the last few weeks at a training camp in Italy building up to a three-day meet that begins on Thursday.
They have only been training together since September, when senior members of the team retired from the sport.
The French Open is the first time the squad have competed together at an international competition and comes at a time when the future of the team is under threat.
UK Sport announced last month that their entire £4.3m budget was being withdrawn along with the funding for other sports including Water Polo and Basketball.
UK Sport, which distributes £100m of public funds to improve the nation's Olympic performance, is focusing on sports with greater medal chances.
Last year the Hampshire-based team was celebrating a 25% increase in funding to £4.3m, having met its London 2012 target of finishing sixth.
However, following an annual review of elite sport funding, that money was withdrawn.
UK Sport chief executive Liz Nicholls said it would be "high risk" to continue funding sports with little chance of winning a medal by 2020.
British Swimming had appealed the decision but found out on Wednesday that UK Sport would not reverse the decision.
In Paris the GB Synchronised swimming squad will compete in the Duet Free, Team Free and Combination events.
Genevieve Randall will swim in all three after she was selected to compete in the duet - a position that for the last decade was held by commonwealth silver medallist Jenna Randall before she retired following last year's world championships.
Randall, 16, who comes from Oxfordshire, said the team were looking forward to showing what they can do.
"We've taken a big step up, it's been really intense, and we're going to take another one for the competition," Randall told BBC South Today.
"We're a younger duet, but we have a lot of energy and we've just got to show the judges that we can do that routine and it seems to be going really well."