Water polo: GB women beaten by Russia on home return
Last updated on .From the section Swimming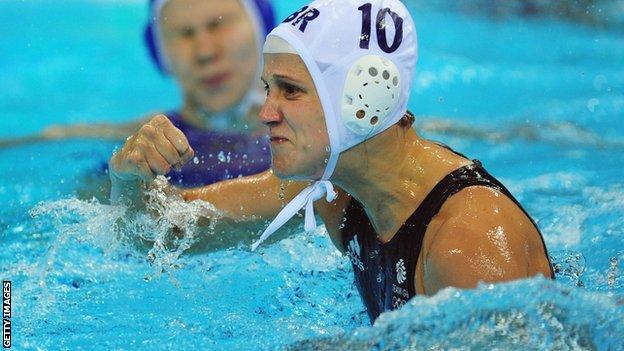 Great Britain's women's water polo team gave a powerful Russia side a scare as they went down 12-9 in a Water World League qualifier.
Russia, the competition's 2013 runners-up, were ahead by just one goal after the third quarter but a final flurry from the visitors ended GB hopes.
The qualifying event at Manchester Aquatics Centre was Britain's first home match since the 2012 London Games.
Attention now turns to European Championship qualification in January.
Ciara Gibson-Byrne scored five for GB with Angie Winstanley-Smith, Lisa Gibson, Fiona McCann and Chloe Wilcox also finding the net in what was the side's first match since the World Championships in July.
New head coach Kostas Vamvakaris said: "We scored nine goals which is OK but we conceded 12 so we must fix our defence to get better results."
But he added: "Evidently we are not far from Russia and the other top teams. So it's been good for us but we understand that we have something to do to get better and better.
"The girls have a lot of talent and they must believe the talent they have in themselves as a team."
GB women will next face Ukraine, Israel, Netherlands and Portugal between 16-19 January 2014 in their European Championship qualification group in Gouda.