GB swimmers 'taken out of comfort zone' to improve medal success
By Nick Hope
BBC Olympic sports reporter
Last updated on .From the section Swimming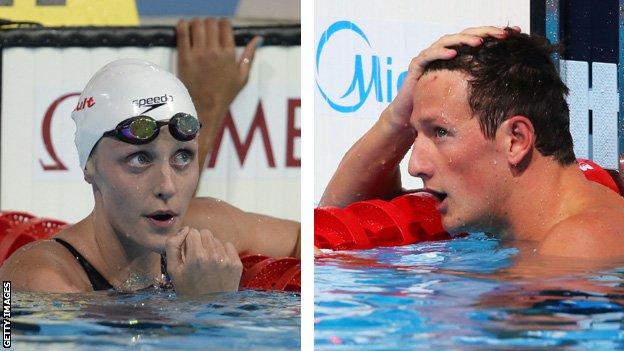 British Swimming head coach Bill Furniss insists taking swimmers out of their "comfort zone" will help turn around the sport's national fortunes.
As a result Furniss has overseen a drastic cut in the number of funded swimmers and has insisted on more regular competition.
"We're taking some out of their comfort zone but we'll benefit," he said.
"It's not a choice for the athletes, if they are on the programme we are telling them they have to do this, so we're forcing a bit of change."
GB swimmers won only three medals at London 2012 and managed just one at the 2013 Barcelona World Championships.
A comprehensive review of British Swimming, following their London Olympic shortcomings, found the programme was "not broken", however it did cite a lack of competitive racing as hindering athletes at major events.
As a result, British swimmers have since competed on the World Cup circuit for the first time in the past few months.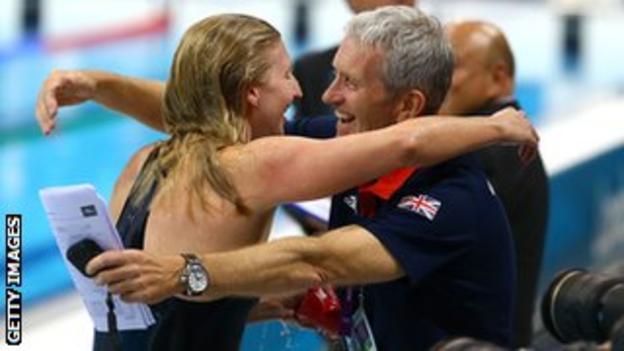 Twelve athletes, including Olympic silver medallist Michael Jamieson, 25, and world bronze medallist Francesca Halsall, 23, will also compete at the European Short Course Championships in Herning, Denmark between 12-15 December.
"We have a new racing strategy and the dozen or so athletes who competed on the World Cup circuit did very well against world class competition so that's something we'll look at doing next year as well, as we continue to get stronger heading towards Rio 2016," he said.
"However, I'll be honest, I've probably left one of two potential medals at home [and not selected certain athletes for Denmark] because I want to send a message that we have a very high qualification standard."
Loughborough-based Halsall, a predominantly freestyle specialist who will also swim the 50m backstroke event in Herning, is certainly enjoying the new regime.
"I love it," she told BBC Sport.
"I've had 33 high-quality races since September and as a sprinter it's great practice for me and a much better stimulus to training on my own.
Jamieson recently revealed he needed his heart restarting after a particularly intense training session, but believes he is capable of returning to the form which saw him claim silver at London 2012.
"I expect Olympic champion Daniel Gyurta [of Hungary] to be at the front again as he's been so dominant in the 200m event over the past few years," he said.
"It will definitely take a big best for me to challenge for that top spot, but that's what all of the hard work in training is aimed at."
As a result of UK Sport's post-London 2012 funding cut for British Swimming, the sport closed its Intensive Training Centre [ITC] in Stockport in February and then announced last month that bases in Stirling and Swansea would follow, at the end of the year.
They had been set up in 2008 with the intension of boosting GB medal prospects at the Olympics.
The two remaining bases at Loughborough University and the University of Bath have now been named "British Gas GBR National Centres for Swimming".
Performance director Chris Spice insists the move is more than a re-branding exercise and a new open-door policy will allow elite swimmers based elsewhere in the UK to access support.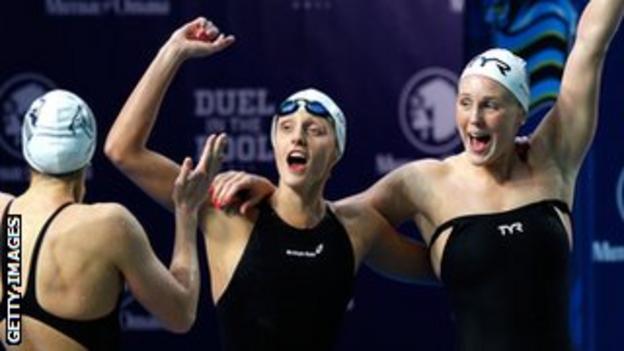 "The centres will be driven by a real ethos of learning and development for all of those identified as being able to achieve their potential on the international stage," said Spice.
"Athletes and coaches both from within and from outside the centres will be able to utilise world-class facilities, sport science and medicine support."
After competing at the European Short Course Championships, Britain's highest-profile swimmers will then join their European counterparts to take on a USA team in the sport's equivalent of golf's Ryder Cup.
Duel in the Pool will take place from 20-21 December, with commentary on BBC Radio 5 Live from Tollcross International Swimming Centre, Glasgow, which will host the sport at next year's Commonwealth Games.