Michael Jamieson pushing himself to the limit ahead of Glasgow 2014

By Chris McLaughlin
Commonwealth Games reporter, BBC Sport
Last updated on .From the section Swimming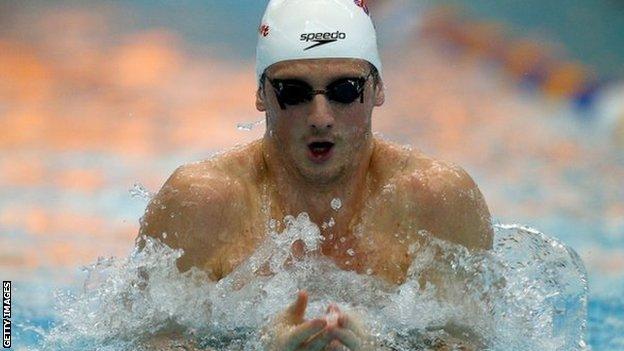 Michael Jamieson says his recent heart scare is evidence that he is pushing himself to the limit ahead of next year's Commonwealth Games in Glasgow.
The 25-year-old following an intensive training session last week.
He has since returned to training just days after receiving treatment.
"I was just taking pride in the fact the specialist had only ever seen this in a few other athletes - all Olympic medallists," said Jamieson.
noticed something was wrong after a high intensity session in the gym left him unusually exhausted.
"The idea is to go from rest to maximum effort as quickly as possible," he explained.
"It's arguably the best way to train but it does put your system under quite a lot of stress.
"After reaching my maximum heart rate, my heart just started to jump and came out of rhythm."
Jamieson's medical team spotted something was wrong and decided to take a closer look.
"After the doctors had a look at me, they took me down to accident and emergency in Bath and the service there was amazing," Jamieson recalled.
"I was sedated through the night and they gave me a bit of a jolt to put my heart back into the correct rhythm.
"I couldn't wait to get back to my team-mates and give them stick about how hard I had been working."
Jamieson missed two days training but was back in the pool within 48 hours and insists he is fit and ready for the upcoming European Short Course Championships in Denmark and the Duel in the Pool in Glasgow later this month.
British Swimming's head coach Bill Furniss says there is no cause for alarm.
"I have spoken to his coach and he is absolutely fine," said Furniss.
"It's a minor blip and he resumed training pretty much straight away."
Furniss also believes such scares come with the territory of being a top-class athlete.
"The general public don't realise just how hard they work," he explained.
"They push themselves to the absolute limit on a daily basis but thankfully they have great support around them."
Jamieson has had no recurrence of the shoulder injury that led to a disappointing showing at the World Championships and admits he is now focusing on being as fit as he can be for next year's Games in his home city of Glasgow.
"I got what I wanted in London but this is home - it doesn't get much closer," he added.
"It is where I grew up swimming and it's where I realised I wanted to become an athlete.
"I think last week just shows how hard I'm working towards getting the results that everyone else is looking for."