Olympic silver medallist Michael Jamieson 'had heart restarted'

By Chris McLaughlin
Commonwealth Games reporter, BBC Sport
Last updated on .From the section Swimming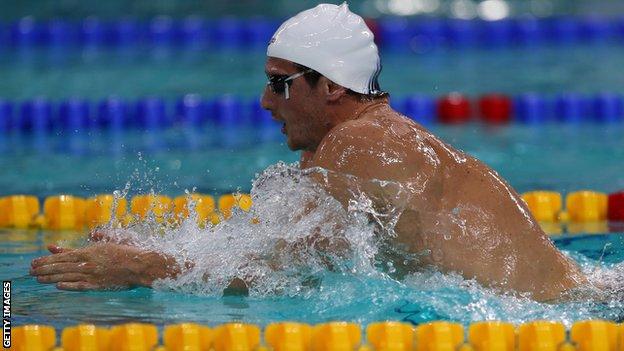 Olympic silver medallist swimmer Michael Jamieson says doctors had to restart his heart on Wednesday morning.
The 25-year-old Scot revealed the news on social media site Twitter and said he had been cleared to resume training.
Jamieson described his medical care at Royal United Hospital Bath as "amazing".
"Not really sure the reasons behind it happening, but I went into an irregular beat after reaching 203 heart rate in a session (max is 193)," said Jamieson.
"Specialist said he's only seen this three times, all Olympic medallists - pretty cool!"
Jamieson came to prominence by finishing second in the 200m breakstroke at London 2012 and most recently won silver in the same even at the Beijing World Cup.
A British Swimming spokesperson said: "Michael experienced a minor irregularity in his heart rhythm this week and was seen immediately by specialists.
"He has been cleared to train following medical treatment and is already back in the water."