British Swimming's Swansea and Stirling centres lose elite funding
By Nick Hope
BBC Olympic sports reporter
Last updated on .From the section Swimming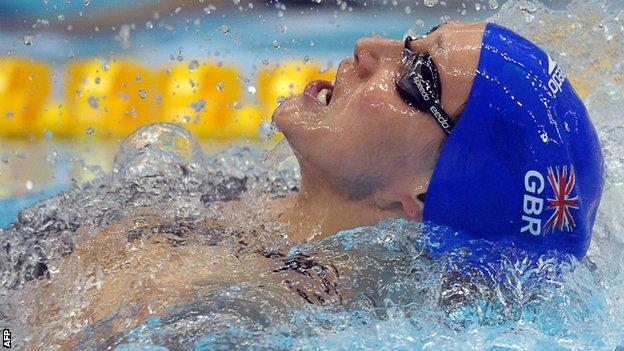 Two elite training centres set up to help British Olympic swimming hopefuls are to close at the end of the year.
The Intensive Training Centres (ITCs) in Swansea and Stirling will shut after governing body British Swimming's Olympic budget for Rio 2016 was cut.
UK Sport reduced funding by £4m after Britain's swimmers failed to reach a target of five medals at London 2012.
Stockport's ITC shut in February, but bases in Loughborough and Bath, which house more elite swimmers, are safe.
Training facilities will still be available to swimmers in Swansea and Stirling, but without the same level of support as before.
British Swimming has pledged to continue investing in the sport in Wales and Scotland as part of a deal with their respective governing bodies.
The deal with Scottish Swimming and Swim Wales will run from 2014 to 2017.
The closing of the ITCs comes a month after Swansea learned funding for its disability swimming programme was being pulled.
But British Swimming national performance director Chris Spice said: "We will be investing in Scotland and Wales' elite swimming infrastructure and the funding will be targeted towards athletes that have a realistic chance of winning medals on the international stage up to Tokyo 2020 and beyond.
"We're investing in the future of swimming in Scotland and Wales, and therefore the future of British Swimming."
Ally Whike, Scottish Swimming's director of performance, added: "We have strong partnerships around our four performance centres in Aberdeen, Stirling, Glasgow and Edinburgh.
"This investment allows us to enhance these partnerships, ensuring we continue to support and develop the coaches and athletes in the programmes."
Five ITCs were set up in 2008 in a bid to give swimmers the necessary support to succeed at London 2012.
The centres offered facilities including a full-time head coach, appointed by British Swimming and 25 hours of dedicated pool training a week.
Despite all sides agreeing the new deal will provide enough support for young athletes to fulfil their potential and aid the continued development of more senior swimmers, some may consider relocating to the better-funded bases in Loughborough or Bath.
Two-time Olympian Jemma Lowe moved from her native Wales to Bath earlier this year, but British champions Jazmin Carlin and Georgia Davies are still based in Swansea.
Earlier this month, Carlin was adamant she would continue to train in Swansea even if its ITC was to close.
"Swansea has great facilities and as long as I have got a pool to train in that is all I am going to be doing with the Commonwealth Games coming up. I have to do as many hours as I can in the pool," said the 23-year-old, who won a silver and a bronze medal at the 2010 games in Delhi.
"Together with Sport Wales, it is envisaged the British swimming investment will support Swim Wales in our long term strategies," said Robert James, chief executive of Swim Wales.
"Our immediate focus continues to be on the 2014 Commonwealth Games, where we will be seeking to build upon our medal tally from Delhi."
Carlin will compete with 11 other British swimmers as part of a European 'all-stars' team, who will take on the United States at a challenge event, titled Duel in the Pool, to take place on 20 and 21 December in Glasgow.