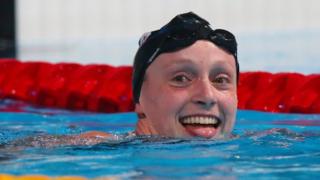 Ledecky breaks Adlington's record
USA's Katie Ledecky breaks Rebecca Adlington's five-year-old world record with gold in the 800m freestyle final at the World Championships in Barcelona.
The 16-year-old American swam a time of eight minutes 13.86 seconds, beating the mark Adlington set at the 2008 Beijing Olympics.
It is Ledecky's third gold medal of these championships after she set a new world record in the 1500m and also took gold in the 400m.
Available to UK users only.