Ben Proud: Jon Rudd lauds "most exciting young British prospect"
Last updated on .From the section Swimming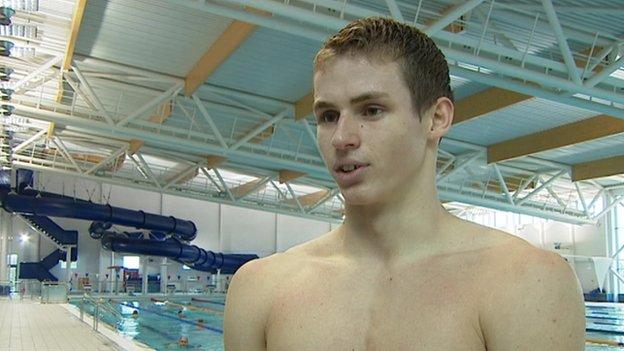 Plymouth Leander coach Jon Rudd believes Ben Proud is the most exciting young British prospect ahead of the World Championships in Barcelona.
The 18-year-old in Sheffield.
"He's most definitely world class," Rudd told BBC Spotlight.
"We believe from the statistics that he's the fastest 18-year-old boy of all-time worldwide. Now, that's not a bad start."
Rudd is sending eight athletes to the World Championships, including Olympic gold medal winner Ruta Meilutyte.
"In my opinion, I've got the privilege of coaching the two most exciting young swimmers in Britain today," he added.
"He [Proud] has to learn how to deal with that cauldron. Highly testosterone-charged male sprint swimming is a real hotbed, it's a very challenging environment before you race."
Proud, who was born in London but raised in Malaysia, is amazed by his progress since joining the Leander club.
"It's quite hard for me to get my head around how much time I've dropped," Proud told BBC Spotlight.
"I'm ranked third, but I've never raced against senior athletes, especially famous names like Cesar Cielo, but now my times are up with them.
"I think I'm going to have to go there and swim my own race, that's my target."