Rebecca Adlington can revive GB fortunes, says coach Bill Furniss
By Nick Hope
BBC Olympic sports reporter
Last updated on .From the section Swimming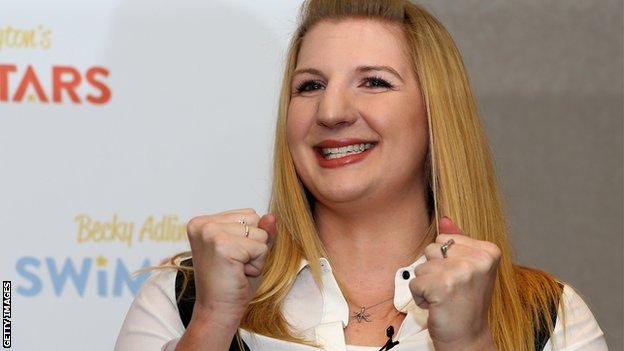 New British Swimming head coach Bill Furniss wants to utilise Rebecca Adlington's "mental toughness" to help reverse the fortunes of the GB team.
Michael Jamieson was the sport's only other Olympic medallist as they fell short of their five-medal target.
"More than anyone else she [Adlington] knows what it takes to deliver," stated Furniss.
"I see the real strength in Rebecca is to teach our future swimmers and coaches what is possible and I'm talking about mindset and belief - she can still be a massive asset to the sport."
An extensive review into the sport's failing at London 2012 revealed that the British Swimming programme was "not broken" but that preparations for the Games could have been improved.
One change has seen selection events for major competitions moved to later in the year.
This week's British Championships in Sheffield which double up as qualification for next month's World Championships in Barcelona are three months later than last year's event which served as trials for the Olympics in 2012.
Swimmers will also compete internationally more regularly, but the sport's new performance director Chris Spice, who has previously worked with England Hockey, the England Rugby Union and British Basketball teams believes psychology is also key.
"Coming from [what he has seen in] other sports, I think there's a mental toughness that is a bit wanting across the [swimming] programme," said Spice.
"I want all the athletes to understand what it means to put on the Great Britain kit.
"I want everyone in the programme to feel it when we win a medal and also feel it when we do not - I don't think we are there right now."
Furniss, who coached Adlington throughout her career, believes this is the area where Britain's most successful swimmer can make a significant impact.
"Rebecca [Adlington] was always driven and had natural psychology from day one," Furniss told BBC Sport.
"She believed [she could win], knew how to cope under extreme pressure, didn't buckle and those are all things we need to use and draw on to teach other athletes."
When pushed on whether he could ever see Adlington making a competitive comeback Furniss admitted he would "never say never" but does not expect it.
Despite losing the podium potential of the swimmer who brought in two-thirds of British Swimming's medals in London former Nova Centurian coach Furniss insists he has seen signs that the sport can improve come the Rio Olympics.
"I wouldn't have taken on the job if I didn't think it was possible," said the 58-year-old.
"The swimmers were disappointed, gutted and some of them even distraught [after the London Olympics] and I think that's a good thing because we can now pick ourselves up and start looking forward."
"It's important in performance sport never to look back, that's what Rebecca [Adlington] has done and what we now need to do is look for the next Rebecca," concluded Furniss.