Medal winning debut for new GB synchro duet
Last updated on .From the section Swimming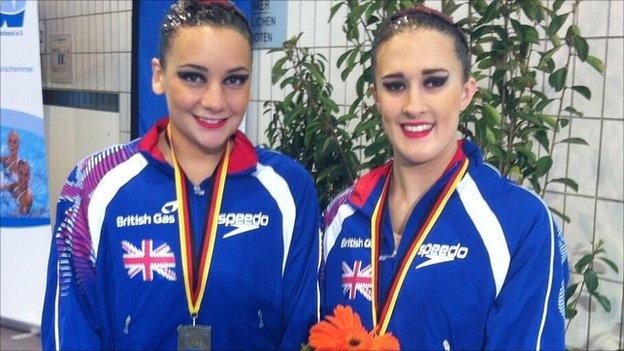 GB synchronised swimming squad pair Asha Randall and Katie Clark finished their first competition as a duet with a bronze medal at the weekend.
The pair were competing at the German Open in Bonn.
"We were really pleased with our performance," said 18-year-old Clark from Reading.
"It was our free performance that we were most happy with. We also did a really good performance of our technical routine."
Clark added: "We wanted to look to improve our free for the final so we were really happy, especially with the scores and the result too."
It was their first competition since they finished the team finals at the London Olympics in sixth place.
For Clark, swimming as a duet has been a welcome new challenge.
"Coming from such an amazing experience it's been hard training," she said.
"But the duet has definitely helped give us a new challenge.
"I think its hard for every athlete after an Olympic Games to get back into it, get motivated, but the duet has definitely helped Asha and I get back into it."
The pair scored well for the spider inspired routine and showed impressive height on their assisted lifts and boosts to impress the judges.
On their medal Randall said: "The competition went really well for us. It was our first international as a duet and we went into it with no real expectations.
"We did our job though and came away with a great performance. The competition was a great one to start with too.
"In the technical routine our elements were good but the height could have been better towards the end, but that will come with training.
"In the free our artistic impression was really good so we took that as a real positive."
Katie and Asha will next compete at the British Open next month, before the Spanish Open later in the year.
Synchronised swimming was one of the big winners in UK Sport's announcement of its funding strategy in December for Olympic sports in the lead-up to Rio 2016.
Funding for the Aldershot-based GB Sycnchro squad went up from £3.4m to £4.3m, an increase of 26.5%, after the team hit their Olympic targets in London.
The big competition this year is the World Championships in Barcelona in July as a new-look GB squad will take to the water. Of the 12 woman squad a year ago five have retired.
Lucy Bowes, Amy Campbell, Jodie Cowie, Genevieve Randall and Hannah Randall have begun training at the High Performance Centre in Aldershot.