Great Britain's Gemma Spofforth retires from swimming
Last updated on .From the section Swimming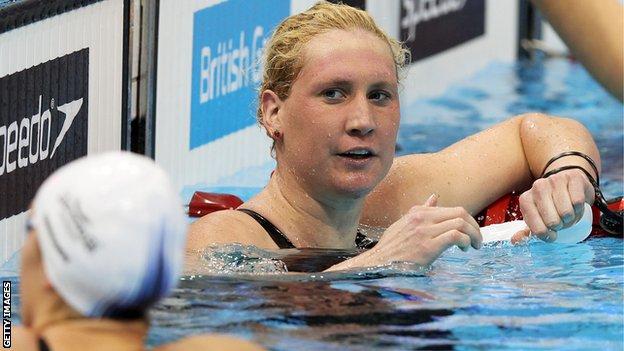 British 100m backstroke world record holder Gemma Spofforth has announced her retirement from swimming.
The 24-year-old set the record of 58.12secs when she won gold at the World Championships at Rome in 2009.
She considered quitting last year after failing to defend her title, but went on to compete at the Olympics in London, finishing fifth.
"I want to thank everyone, family, friends, fans and anyone who has followed my career," she tweeted.
"These last few years have been the most amazing because of you! I have made so many friends through the sport and will keep them for the rest of my life. So THANKS for the support and love from everyone."
Spofforth, born in Shoreham, West Sussex, won a place at the 2008 Olympics months after her mother Lesley, a maths teacher, died following a battle with bowel cancer.
The swimmer competed for Great Britain in the 100m backstroke in Beijing and finished fourth, 0.04secs outside a medal position.
She went on to beat Anastasia Zueva to gold in Rome the following year, breaking the Russian's world record in the process.
Spofforth revealed last year that she started to question her future as a swimmer after winning three silver medals at the 2010 Commonwealth Games in Delhi.
She then considered retirement after failing to reach the World Championship 100m backstroke semi-finals in Shanghai, having suffered a run of bad form in the run-up to the event.
Spofforth has indicated that her future career will take her away from the pool, telling SwimNews: "I've started a new life. I'd like to work with under-privileged kids who need that structure in their lives, who need sport or something like that in their lives.
"To be able to create that avenue for the kids, one that I was so lucky to have myself because I had a fortunate childhood, is something that really motivates me."