Ian Thorpe finishes seventh in medley on return to swimming in Singapore
Last updated on .From the section Swimming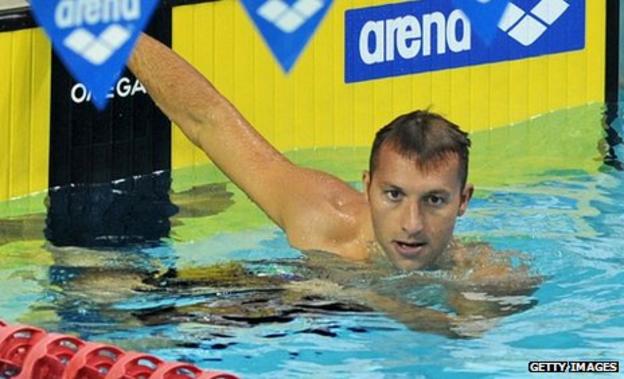 Australia's five-time Olympic champion Ian Thorpe finished seventh in the 100m individual medley final on his return to competitive action in Singapore.
The 29-year-old, who quit the sport five years ago, clocked a time of 56.33 seconds at the World Cup meeting.
Thorpe, , had earlier qualified sixth fastest.
He will race in the 100m butterfly on Saturday, before heading to the World Cup meets in Beijing and Tokyo.
Thorpe bettered his qualifying time of 56.74 in Friday's individual medley final but was well off the pace set by 19-year-old South African Chad Le Clos, who won in 53.06.
"People want to see me do well and see me do well quickly. I prefer to do that, I prefer not to wait," said Thorpe.
"I haven't swum for a long time. I have to take stock where I was 12 months ago to where I am now. I'm in a final and competing reasonably well. I'm happy.
"Hopefully with a little more time we can have some good performances."
After a strong start on the butterfly leg, Thorpe lost ground on the breastroke leg and never challenged in an event he rarely competed in prior to retirement.
"I'm really pleased with the first 50," he said. "The fly leg was great, the backstroke was great and I'm really happy with the underwater work tonight.
"I was doing really well and then the breaststroke happened. It wasn't so bad this morning. It is something I can work on."
The Australian has been
Thorpe has publicly played down any hopes of returning to the dominant position he once held, with his focus on qualifying for a strong Australian Olympic squad next year.