British open swimming pair miss London 2012 Olympic chance
Last updated on .From the section Swimming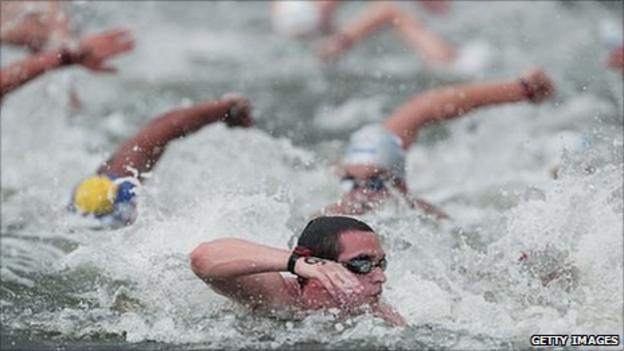 British open water swimmers Dan Fogg and Tom Allen missed out on a chance to qualify for the London 2012 Olympics by finishing outside the top 10 at the World Championships.
The pair could not repeat the success of Keri-Anne Payne, who won the women's event on Tuesday to become the first British athlete to qualify for next year's Games.
Fogg, 23, finished 15th, while teenager Allen came home in 26th at the event in Shanghai.
Greece's Spyros Goanniotis, who has an English mother and was born in Liverpool, won gold while Germany's Thomas Lurz took silver.
Fogg and Allen's failure to qualify means another British swimmer, the Olympic silver medallist David Davies, will get another chance to compete in London after he missed out on making the team for China.
Davies, Fogg and Allen will all now chase the two slots available for British swimmers at the Olympics.
"I thought I'd saved enough over the course and would be strong enough at the end. After leading most of the way, my legs just came off at the end. I didn't have enough to fight back," said Fogg after the Shanghai event.
"I just kept my head down throughout the race and tried to get as highly placed as possible and get that Olympic qualification.
"I wanted to give myself the best chance and, for three-and-a-half laps, everything looked good. But I just couldn't respond at the finish. I'm obviously disappointed, but I couldn't have given any more.
"There's one more chance to qualify for London and I'll set my sights on that now, and work as hard as I can towards it."
Dejected Allen, who will compete at the European Juniors next week, found the pace too quick in the hot and humid conditions.
"It was a very hard and fast race," said 19-year-old Allen, who will compete at the European Junior Open Water Championships in Spain next month.
"In my opinion, the field went out too fast too soon but that's just the way it was swum. Coming into the home straight I simply didn't have anything else left to give and the wheels came off.
"I get pushed around so easily. I have to think of new race plans because this doesn't work any more and try to think of something new.
"I have to train more and take advice from these open water swimmers."
Meanwhile, Tonia Couch has qualified for Thursday's final of the 10m platform diving after finishing 11th in the semi-final in Shanghai.
The 22-year-old, who along with Sarah Barrow claimed the best result by any British female diver at the World Championships when they finished fourth in the 10m synchro on Monday, book her place in the 10m platform final with a score of 313.35 points.
Full details of BBC coverage from the Fina World Championships