Channel Islanders dominate Island Games swimming
Last updated on .From the section Swimming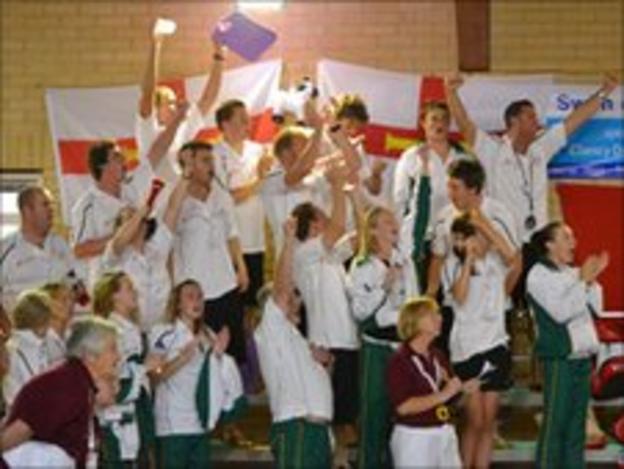 Channel Islands swimmers continued to dominate proceedings on day three of the Island Games, winning 14 medals.
Guernsey's Kristina Neves, 14, was the star of the day, repeating her achievements from Monday by winning a further two golds and a silver.
Ian Powell secured Guernsey's third gold with a victory in the men's 100m butterfly, finishing just ahead of compatriot Thomas Hollingsworth.
Jersey's swimmers were also on form, winning three silver and three bronze.
After winning two gold medals on day two of competition, Neves picked up where she left off with a comfortable win in the final of the 800m freestyle - finishing in 8 minutes 47.98 seconds, well ahead of the Isle of Man's Charlotte Atkinson (8:55.92).
The Sarnian youngster also took the top prize in the women's 50m butterfly, where she edged out Jersey's Ebony Jacklin.
Tom Gallichan was the standout swimmer for Jersey, adding a silver and bronze to his earlier bronze in the men's 50m butterfly.
Guernsey medals
Gold - Ian Powell - Men's 100m Butterfly
Gold - Kristina Neves - Women's 50m Butterfly
Gold - Kristina Neves - Women's 800m Freestyle
Silver - Thomas Hollingsworth - Men's 100m Butterfly
Silver - Thomas Hollingsworth - Men's 200m Freestyle
Silver - Kristina Neves - Women's 200m Individual Medley
Bronze - Victoria Parfit - Women's 200m Breastroke
Bronze - Guernsey - Women's 4 x 50m Medley Relay
Jersey medals
Silver - Tom Gallichan - Men's 400m Individual Medley
Silver - Ebony Jacklin - Women's 50m Butterfly
Silver - Jersey - Women's 4 x 50m Medley Relay
Bronze - Tom Gallichan - Men's 200m Freestyle
Bronze - Charlotte De Wit - Women's 100m Backstroke
Bronze - Jersey - Men's 4 x 50m Freestyle Relay