Channel Island swimmers excel at the Island Games
Last updated on .From the section Swimming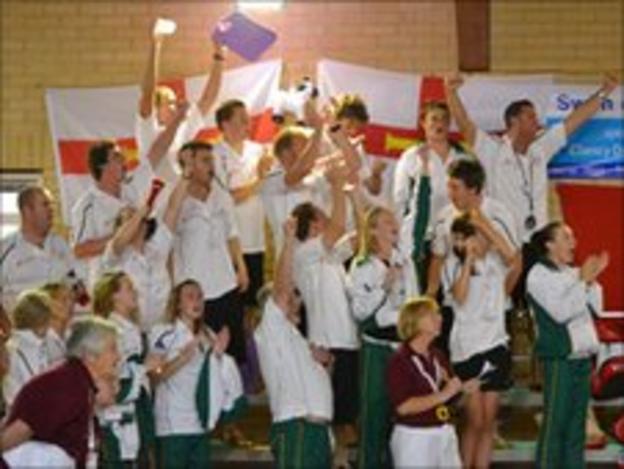 Guernsey's swimmers excelled in the pool at the Island Games as they won six golds on Monday.
There were two golds apiece for Ian Powell and Kristina Neves, with Thomas Hollingsworth also winning gold in the men's 200m individual medley.
The Sarnian team of Matthew Girard, Ben Lowndes, Hollingsworth and Powell then won gold in the 4 x 50m medley.
Jersey's swimmers also performed well, picking up two silver medals and five bronze medals.
Among Jersey's medal tally were a silver for John Gallichan in the 1500m freestyle, where he finished ahead of Guernsey's Miles Munro (bronze), with their second silver coming in the women's 4 x 50m freestyle relay.
Guernsey's dominance was led by Neves and Powell, who contributed seven medals between them.
Neves finished more than a second ahead of her nearest rival in the 100m butterfly, enjoying a similar margin of victory in the final of the women's 200m freestyle.
Powell's first gold came in the 50m backstroke, where he edged out the Faroe Island's Magnus Jákupsson, winning in a time of 25.26 seconds, a new Games record.
The Sarnian then won a second gold in the men's 200m butterfly, finishing in 1:58.43 and comfortably beating compatriot Ben Lowndes (2:04.31).
Guernsey medals
Gold - Ian Powell - Men's 200m Butterfly
Gold - Ian Powell - Men's 50m Backstroke
Gold - Kristina Neves - Women's 100m Butterfly
Gold - Kristina Neves - Women's 200m Freestyle
Gold - Thomas Hollingsworth - Men's 200m Individual Medley
Gold - Guernsey Men's 4 x 50m Medley Relay
Silver - Thomas Hollingsworth - Men's 100m Breaststroke
Silver - Ben Lowndes - Men's 200m Butterfly
Silver - Kristina Neves - Women's 400m Individual Medley
Bronze - Miles Munro Men's 1500m Freestyle
Bronze - Guernsey - Women's 4 x 50m Freestyle Relay
Jersey medals
Silver - John Gallichan - Men's 1500m Freestyle
Silver - Jersey - Women's 4 x 50m Freestyle Relay
Bronze - Jersey - Men's 4 x 50m Medley Relay
Bronze - Tom Gallichan - Men's 50m Backstroke
Bronze - Ebony Jacklin - Women's 100m Butterfly
Bronze - Emily Bashforth - Women's 200m Freestyle
Bronze - Ella Dias - Women's 400m Individual Medley