David Davies suffers Olympic Games qualifying setback
Last updated on .From the section Swimming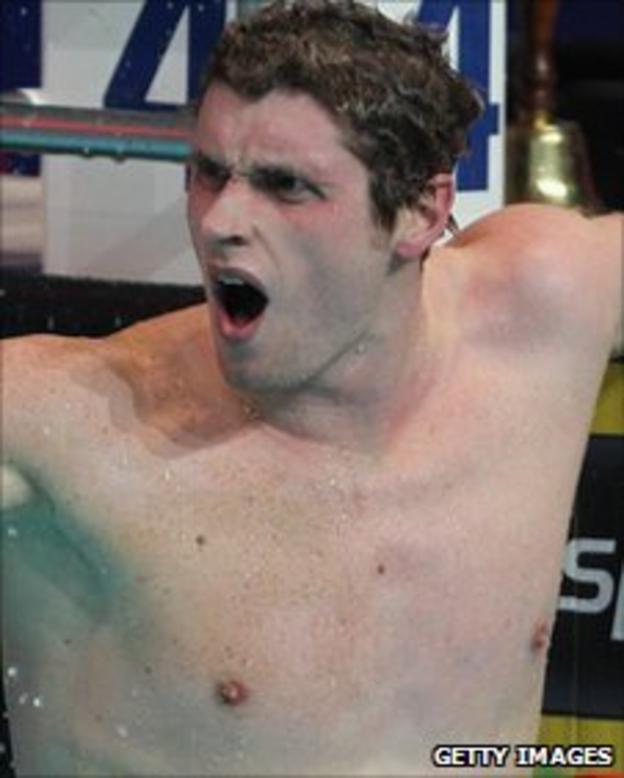 David Davies has vowed he will "not quit" as the Welsh swimmer suffered a setback in his bid for a third medal in a third successive Olympic Games.
The 26-year-old finished 26th in the 60-man field in the European Open Water Swimming Championships in Israel, which was a 2012 Olympic qualifying event.
Davies, who won open water silver at the 2008 Olympics, may have a chance to qualify for London 2012 next summer.
"I'm definitely not going to quit," Davies insisted after the 10km race.
"There might be a second chance for me to qualify next year but it's out of my hands at the moment. I'll just have to wait and see."
The two fastest British swimmers from the European Championships in Eilat qualified for the World Championships in Shanghai.
If they finish in the top 10 in China they will also qualify for the 2012 Olympic Games.
In the men's 10km race, Davies' fellow Welshman Tom Allen was fastest Brit. At the final turning buoy he was in joint lead but after the turn he found himself in the middle of the pack and was pushed out of the lead.
He finished in 10th place overall, while Commonwealth bronze medallist Dan Fogg finished in 18th place to also secure his place in Shanghai.
Davies, who won 1,500m bronze on his Olympic debut in 2004, was pipped to the 2008 Beijing gold by Dutchman Maarten van der Weijden by just 1.5 seconds in the open water Olympic debut in China.
Now the 2006 Commonwealth 1,500m champion is hoping to go one better in swimming's marathon event in 2012 - which is set to be his international swansong.
But Davies has still not qualified after missing out on a top 10 place in Israel.
"I gave it everything and that's all I can do," he said.
"It's a lot harder to win a medal in the 1500m but I still believe in myself and that I can do it.
"The race on Saturday had a massive field - there were about 60 of us and it wasn't just the Brits who were using it as part of the qualification process.
"The Germans, Italians and Russians were all trying to the get to the Worlds and, from there, the Olympics.
"I approach an open water race by leading from the front. I worked too hard at the outset and made a couple of errors. I took some long lines.
"I was constantly getting leg-tapped so I compensated by over kicking. It disrupted my stroke a bit. I got hit and got a cut to my left cheek as the pack was so big.
"I had to stop to adjust the goggles and ended up a fair way back. I used too much energy and got swallowed up [by the pack]."