Swansea swimmer Jazz Carlin ready for China challenge
Last updated on .From the section Swimming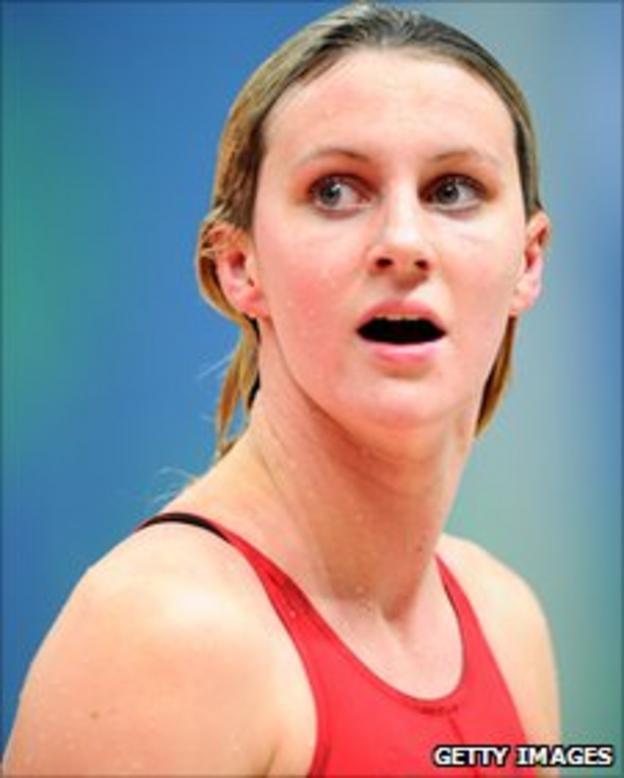 Welsh swimming star Jazz Carlin believes Rebecca Adlington has been the perfect rival in the build-up to the World Championships in Shanghai.
Carlin, 20, was edged out of first place by Olympic champion Adlington at the British Championships in March.
But the Swansea swimmer, who finished second in the 200m, 400m and 800m freestyle events, remains upbeat.
"If I'm I racing her [Adlington] then I'm racing the best in the world," she said.
Despite narrowly losing out to her rival, Carlin still managed to set personal bests and Welsh records in the 400m and 800m at the Manchester event, which acts as a trial for the World Championships taking place in China this July.
Adlington became a swimming icon when she won gold in the 400m and 800m freestyle events at the 2008 Beijing Olympics.
And Carlin, who picked up a silver and a bronze at the 2010 Commonwealth Games in Delhi, believes the rivalry brings out the best in her as she bids for medal success in Shanghai.
"She's [Adlington] one of the best swimmers in the world and I've got to race her every time I race in Britain," said the 20-year-old, who was nominated for the BBC Cymru Wales Sports Personality of the Year 2010.
"I think that definitely helps and when I get to international meets, I'm already prepared to race the strongest competitors.
"I've just got to go out there and give it my best shot and hopefully I can be in the mix with the top swimmers."
Carlin, who used to be known as a relay specialist before winning major individual honours in the pool, recently injured her shoulder but says the setback has helped improve her overall swimming style.
"I've been doing a lot of hard training recently and my shoulder is just starting to get a bit overworked and tired," explained Carlin, who trains at the Wales National Pool in Swansea.
"I've been training normally and I've been doing a lot more work on my kick, which actually does need improving."
Carlin is also hoping to find time in her busy schedule to lend her support to the first open water swim in Wales.
The Dragon Open Water Swim will be held in Mumbles, Swansea, on 6 August and will be open to 500 novices - as well as 30 elite swimmers.
Welsh swimmer David Davies won a silver medal at the 10 kilometre open water race at the 2008 Beijing Olympics and event organisers hope the Swansea swim will lead to Commonwealth Games qualification in the future, although Carlin is unsure whether she will take part.
"It's definitely something that I'd looked into," she said. "I've always had a barrier to it because it's cold but at some point I think I'll give it a go.
She added: "It's going to bring a lot of interest to Swansea.
"To have the first open water race in Wales, in Swansea, is going to be good and even if it's just people participating it's good to have a lot of people getting involved and enjoying it."