Leon Haslam: British Superbike Championship title win 'would mean everything'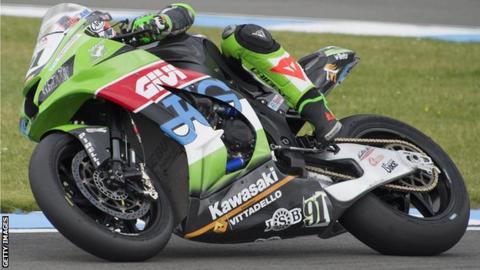 Derbyshire's Leon Haslam says winning the British Superbike Championship would be very special for him.
The 34-year-old JG Speedfit Kawasaki rider has a 32-point lead going into the final weekend of the 2017 season at Brands Hatch.
Haslam, who finished runner-up in 2016, told BBC East Midlands Today: "It would mean everything. I have had a long career and come close a few times.
"We need to win this title and it is the best chance we've got."
Haslam has been runner-up three times in the British Superbike Championship in 2006, 2008 and 2016.
His dad, Ron Haslam, won four British championships - along with three world titles - but Leon does not feel under any pressure to repeat his father's achievements.
"I wouldn't say there was pressure," he said. "You want to win for yourself but it is a big help in my opinion to have that experience in your corner.
"You can use that and benefit from it, so to me that is the big key."
This season's British Superbike Championship has been very competitive with 10 different race winners, but Haslam has won two of the first four Showdown races to edge ahead in the standings.
"It has been a rollercoaster, that's for sure, starting off with a double win at my home venue Donington and then winning the next couple of races," continued Haslam.
"We had the big crash in Scotland and, honestly, that put me back more than people thought.
"We managed to get it on track at the right time and we are feeling quite confident for the final round."