Leon Camier expects strong World Superbikes season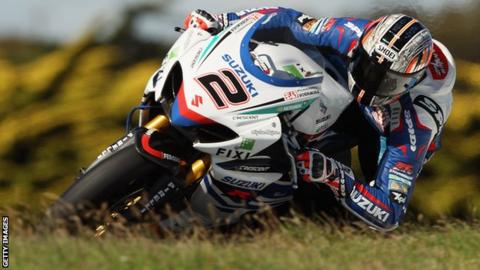 Kent's Leon Camier is optimistic he can achieve a top-five finish in 2013 World Superbike Championship.
The Crescent Fixi Suzuki rider finished 14th in this year's championship, but ending third fastest at a recent test has filled him with renewed confidence.
"I'd like to consistently be on the podium," Camier told BBC Radio Kent.
"Obviously I'd like to win the Championship but realistically if we can get [into the] top five, that would be really good."
After a sluggish start to the 2012 season, Camier's fortunes turned with an engine upgrade at Silverstone.
He recorded his only podium at the Nurburgring in September but was consistently faster towards the end of the campaign.
Despite being quickest on the opening day of winter testing in preparation for the 2013 season in Aragon, Camier admitted there was plenty of room for improvement.
"Where we finished at the end of the year was a lot closer than where we started," he said. "We could start quite strong."
"Every team will move on, develop over the winter and come back stronger next year.
"We still have a lot of improving to do.
"We know what direction we need to go and where things need to improve."
The 2012 season was the 26-year-old's worst since joining World Superbikes full-time three years ago.
Although his switch from Aprilia to Suzuki did not see instant success, Camier believes a strong 2013 season and a MotoGP move could be possible.
"It's going to be a really difficult year," he accepted.
"If I have a good year, win some races and do well in the Championship, that opens other opportunities.
"I'd like to win the World Superbike Championship."
Camier will spend the winter training at his base in Andorra as testing is now banned until the middle of January.