Laura Massaro ends career with defeat at British Open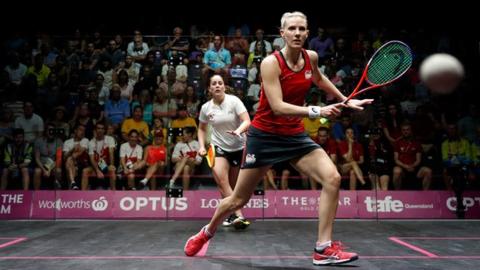 Former world champion Laura Massaro's says she was "hugely disappointed" after ending her career with a shock defeat in the second round of the Allam British Open.
Massaro was beaten 11-5 2-11 11-5 11-7 by Belgium's Tinne Gilis.
The 35-year-old became the first Englishwoman in 15 years to win the world title in 2014 before becoming world number one in January 2016.
"I'm extremely proud of my achievements," she said.
"Obviously I'm hugely disappointed with my own performance and to finish like that. But at the same time you have to be ready to finish and it is the right time for me.
"It has been a complete rollercoaster. There have been unbelievable highs and lows throughout my career and I'm extremely proud of my achievements - hopefully once it all sinks in then I can look back and reflect a bit."
She announced earlier in May that she would retire after the British Open.
Massaro won doubles silver at the 2010 Commonwealth games and finished second in both singles and doubles in 2014.
She won the World Series Finals in 2016 and 2017 and has twice been crowned US Open and British Open champion.
"That's the biggest win of my career," said 21-year-old Gilis, who is ranked 39th in the world. "I'm so happy."
David and Duncalf also bow out
Eight-time world champion Nicol David has also retired after being knocked out in round two by Nour El Tayeb.
Malaysia's David, 35, was beaten 11-4 11-7 11-13 11-5 by the Egyptian world number three.
In February, David announced that she would retire at the end of the season after 19 years as a professional.
"It's my last tournament and it was really special for it to be at the British Open," she said.
"It's a special time for women's squash. All the top girls are gunning for that world number one spot and that makes me so proud to have been a part of that group."
David spent nine years as world number one and is a five-time British Open winner.
She also won seven gold medals at the Asian Games, two Commonwealth Games gold medals and three World Games gold medals representing Malaysia.
David said: "2005 was a big year to get everything going. The British Open was the thing that really kicked things off and winning that title gave me the belief that I could be one of the best on tour and gave me the confidence to win my first world title and get to world number one.
"And 2014 was a truly special world title, I just went for it and it all came together. I don't think I recovered from that. But it was really special to win my eighth world title."
Another player contesting what turned out to be her final professional match was England's former world number two Jenny Duncalf, who lost in the second round to Egypt's world number one Raneem El Welily, 11-2 11-6 11-4.
"I'd have loved to have had a better last few years or maybe to have won a major," the 36-year-old said.
"My fondest memories are playing for England, I have always enjoyed the team stuff and I feel so lucky that I have been able to do it and so many memories."