Women's World Team Championship squash: Egypt beat England to retain title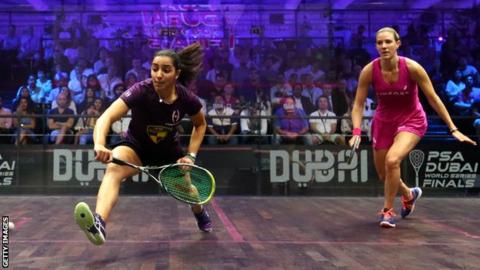 Egypt retained their Women's World Team Championship title with a 2-0 victory over England in Dalian, China.
In a repeat of last year's final in Paris, the top two seeds contested the best-of-three final.
World number one Nour El Sherbini was rested as Nouran Gohar secured a 11-9 11-9 6-11 7-11 11-7 victory against Alison Waters in 55 minutes.
Raneem El Welily sealed the contest with a 11-3 11-8 9-11 11-3 win over Laura Massaro in 36 minutes.
It was England's 13th successive final in a row and they have only ever failed to make the final on one occasion.
But their 2006 win remains their only final victory against Egypt, who added to their triumphs 2008, 2012 and 2016.