British Open: Laura Massaro progresses, as Tesni Evans loses in Hull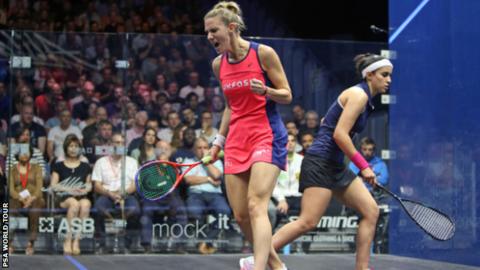 Defending champion Laura Massaro has reached her sixth British Open semi-final with victory over Egyptian Nour El Tayeb.
The 34-year-old sealed the quarter-final in three straight games in Hull.
She is the last remaining British hopeful after Wales' Tesni Evans and England's Sarah-Jane Perry and Alison Waters bowed out of the women's singles.
Evans lost 3-2 to France's Camille Serme.
English number one Massaro, who has spent just 62 minutes on court in her past two matches, will next face another Egyptian, world number one Nour El Sherbini.
"I was so up for today. I've done nothing but think of this match since my last victory," Massaro said after Friday's win.
"I've also had one eye one on this match since the draw came out, without being disrespectful to my two opponents."
"She is part of the reason why I've been training so hard because of how she is changing the game and what she's bringing to it."
Evans, who beat Massaro on her way to a bronze medal at the Commonwealth Games in Australia last month, was edged out of a close opening game, before taking a 2-1 lead in the match.
But Serme responded to wrap up the match in 72 minutes and maintain her 100% record against Evans in the tournament.
Waters had taken a 2-1 lead in her quarter-final match against El Sherbini but after complaining of dizziness on court in the fourth, she went on to lose 3-2.
Last year's runner-up Perry faced the dominant reigning world champion Raneem El Welily of Egypt, losing 3-1 in the final match of the day.