Nick Matthew knocked out in second round of British Open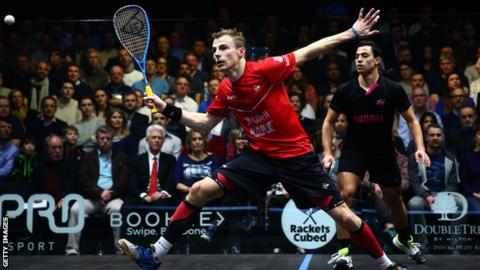 England's three-time world champion Nick Matthew was knocked out in the second round of the British Open by qualifier Raphael Kandra in Hull.
The tournament is Matthew's last ranking event of his career as he is set to retire this summer.
However, the 37-year-old still has a chance of making the Dubai World Series Finals next month.
"No disrespect to Raphael but it's not the way I wanted to go out on a Thursday afternoon here," he said.
Germany's Kandra won the match 3-1 in 58 minutes.
"It sort of summed up my season though, in that every time I thought I was ahead of the game something trips me up," said Matthew, who has won the tournament three times.
"The Commonwealth Games was a bit like that and this week my body let me down a little bit.
"There's still a chance I can qualify for Dubai, but I wanted it to be in my hands and it's not now.
"I have so many good memories of playing in England and that's why I'm disappointed that I didn't get on a bit further. Mentally I still have that desire and I know how to beat all the top guys but my body hates playing them now so maybe now is the right time to go."
Matthew still has a chance of securing a top-eight berth on the PSA World Series Standings, which would see him qualify for the World Series Finals.
Germany's Kandra won the match 3-1