Squash restructure aimed at simplifying tour and boosting earnings
Last updated on .From the section Squash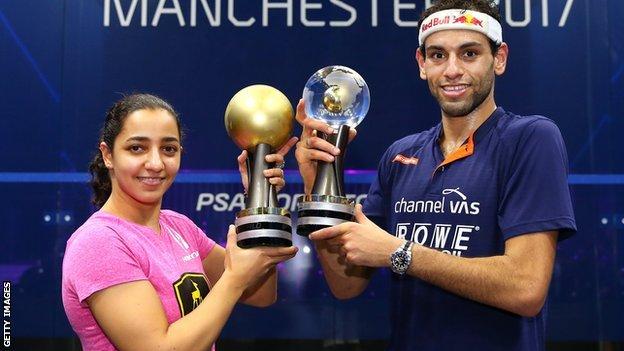 A new tour structure has been announced which aims to streamline professional squash and boost players' earnings.
The current Professional Squash Association (PSA) World Tour will be rebranded into two individual circuits, with qualification rounds scrapped.
A world tour will be complemented by a challenger tour, where selected tournament winners will earn a place at the 2018-19 World Championships.
The event in Chicago in early 2019 will have record $1m (£710,000) prize money.
That will be split equally across both the men's and women's draws and is up from $604,000 (£429,000) for this season's World Championships in Manchester.
The Championships will comprise of 56 PSA entrants and one wildcard, with the other seven places taken up by winners from the challenger tour in a 'Road to Chicago' competition. The women's tournament is expanding from 32 to 64 players.
Events on the world tour will offer prize money of $50,000 (£35,500) to $1m (£710,000) or above, with between $5,500 (£3,900) to $30,000 (£21,300) on offer at challenger events.
The new structure follows a partnership agreement last year between the PSA, which looks after the professional tour, and the sport's governing body, the World Squash Federation.
A satellite tour will be formed, which will see world, regional, national and junior tournaments integrated into the world rankings to offer a route into the professional circuit for up-and-coming players.
"We are committed to promoting a thriving and sustainable professional squash circuit and feel that simplifying the tour structure and easing the transition from junior squash to professional squash will help us to achieve those aims," said PSA Chief Executive Alex Gough.