Nick Matthew beats James Willstrop to win British Grand Prix title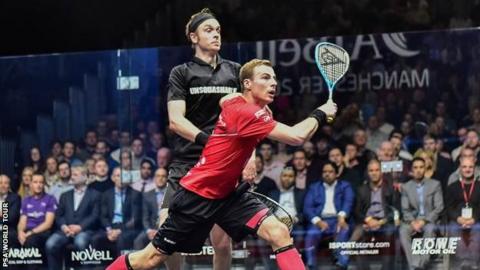 Three-time squash world champion Nick Matthew claimed his first title in 18 months with success in the British Grand Prix.
The 36-year-old world number four from Sheffield beat James Willstrop 11-7 12-10 11-4.
It was a 19th consecutive win for Matthew over his Yorkshire rival.
"There's been a lot of soul-searching and times when I wasn't sure if I could cut it at the top anymore, so there was a lot of emotion at the end," he said.
Matthew started strongly to take the opening game and then battled hard to take the second game tie-break to take control of the match before wrapping up his 34th PSA World Tour title and his first since the 2015 Canary Wharf Classic.
"One minute I'm planning my retirement party, the next minute I want to play for five more years, so the truth is probably somewhere in between," he added.
"There were times where I thought this might be my last year but I definitely have plans to finish this season and take it from there. I would dearly, dearly love to play in one more Commonwealth Games and of course the Worlds in Manchester next year."