Nick Matthew beats Gregory Gaultier in Hong Kong semis
Last updated on .From the section Squash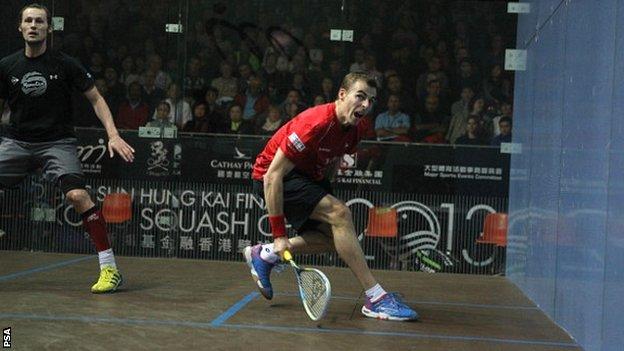 World champion Nick Matthew won a thrilling contest against France's Gregory Gaultier to reach the final of the Hong Kong Open.
A win in Sunday's final would see Matthew edge out Gaultier for the number one ranking.
Matthew, 33, will play Borja Golan in the final after the Spaniard beat James Willstrop 11-3 11-6 11-9.
"I'm just so excited to be in the final," said Matthew. "The last time I made the final in Hong Kong was a long time ago [2004] - there were black-and-white TVs.
"This was my fourth very tough match in four days. I played the world number 10 in the first round and the one positive is that it got me into top-10 speed from the very first round.
"I've had to work very hard and sometimes that can be a blessing because you're up to speed early."
In the other semi-final, Willstrop struggled to recover from Friday's over Egypt's Mohamed Elshorbagy.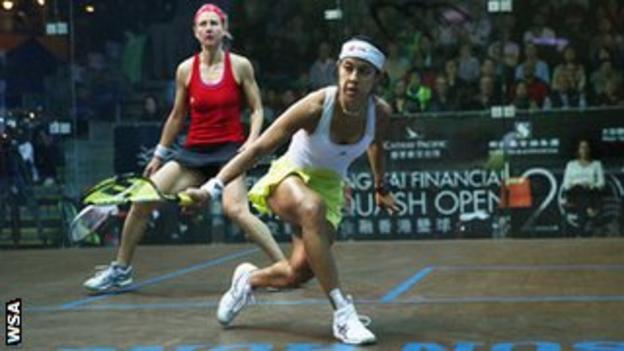 "Squash has many factors and I think James's game with Mohamed was one of the factors," said Golan .
"James was struggling a bit with his movement and I knew that I had to play an attacking game to the front. I thought if I played to the back that I might lose that match so I had to be risky and go to the front and it worked so I am really happy with that.
In the women's draw, eight-time defending champion Nicol David beat England's fourth seed Alison Waters 9-11 13-11 11-7 11-7, and goes on to face Egypt's Raneem El Weleily in the final.
David will equal the record of 90 WSA World Tour final appearances set by Australian squash legend Sarah Fitz-Gerald.
"To equal Sarah in anything is always an accomplishment for me," said David.
"She's so respected and she's done wonders for women's squash. She's one of my role models as well, so to actually equal what she's done is really a feat for me."