Equality key as squash plans for future after Olympic rejection
By Piers Newbery
BBC Sport
Last updated on .From the section Squash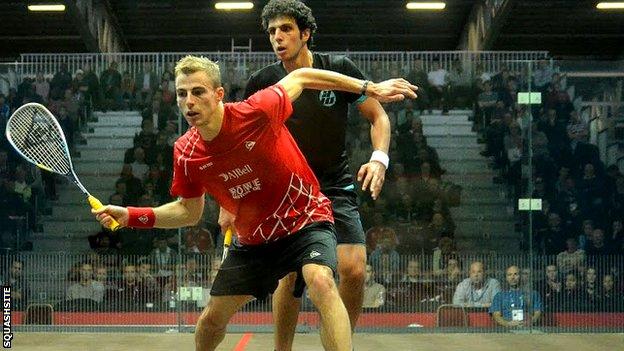 The squash world might still be recovering from the blow of another Olympic disappointment, but all the signs are that they will pick themselves up and try for a fourth time to join sport's greatest event.
Despite a highly regarded bid, squash missed out on a place at Tokyo 2020 when wrestling was reinstated in September, having only been removed from the Olympic list in February.
It was the third time in succession that squash had failed to join the Olympic roster.
"It's tiring and it's hard," world number three James Willstrop told BBC Sport.
"We've promoted and we've tried and we've worked and we've tweeted - we've done everything we possibly can to try to raise the profile and it's just not worked."
The initial reaction from governing body the World Squash Federation was to "keep trying", and that was again the message coming out of last week's annual general meeting in New Zealand.
"We've got to all sit around the table again and work out what's best for the sport," said Alex Gough, chief executive of the Professional Squash Association (PSA), which runs the men's tour.
"That's hopefully going to happen soon, because I think everyone's gone off and been licking their wounds for a little bit."
Having ticked all the boxes in terms of their technical bid and run a campaign they felt was, at the very least, a match for wrestling and baseball/softball, the question for squash is what more they can do.
In the meantime, the sport must continue to remain viable without the funding and sponsorship available to Olympic sports.
"It was tantalising and exciting for us to see what could have happened," added Willstrop. "If we'd have got the nod, suddenly people want to talk to you, there's more funding, more people are playing the game.
"Plus we wanted to be at the biggest sporting event in the world. But it's not to be for the moment."
Manchester hosts the men's World Championship this week, with an extraordinary unbeaten run by world number one Ramy Ashour of Egypt and a home rivalry between Willstrop and Nick Matthew among the storylines the sport hopes will gain it a wider audience.
One battle that will not be played out is that between seven-time world champion Nicol David of Malaysia and England's world number two Laura Massaro, with the women not included in the bid to host the tournament.
Indeed, the staging of a 2013 women's World Open anywhere at all has yet to be confirmed, with time obviously running out. The Women's Squash Association remain "hopeful" of positive news by the end of next week, according to acting tour director Suzie Pierrepont.
Massaro is competing in Monaco rather than Manchester this week, and she admitted: "It does seem harder to take because we don't have a World Open at all. It's really disappointing."
The 29-year-old made her views about sanctioning an event solely for the men clear to England Squash, and the issue is especially pertinent following last week's groundbreaking US Open, where David beat Massaro in a suitably epic final as women competed for equal prize money for the first time.
"There's a 10-year commitment from US squash," said Pierrepont. "The US is a very forward-thinking country in terms of equality and the other events look at what they're doing."
Equal prize money prompted a lively debate among some players on the men's and women's sides, but two-time world champion Matthew was among those in favour.
"If you're outside the top 50, top 100 in the world, you're struggling to make a living, and in the women's game it's slightly tougher," he said.
"We've just had the US Open and that was the first tournament ever to have equal prize money. That was a great initiative."
Willstrop was dismissive of the doubters, saying: "The more money that is invested into something, the more interest it will generate.
"If promoters followed the example of the US Open, there is no reason why the women's game couldn't grow and thrive in the same way the men's has.
"The women's game is as competitive as ever and they are just as fiercely dedicated to their sport as the men, if not more. Why then should they reap less?"
After introducing radical changes to the scoring, courts and technology around the sport, it seems the next step in making squash an irresistible package to sponsors and International Olympic Committee delegates alike might come in combining the men's and women's tours.
"I really want us to," said Gough. "We're actively talking to the women's tour and want to bring them into the PSA, and have men's and women's tours within that. The conversations have started in earnest and there seems to be an appetite for it. It's the mapping out of it that is tricky.
"We're going to work quite hard on putting a proposal together that gives everyone confidence it's the best thing for the sport. That's the plan between now and the end of the year - mapping out the next five or 10 years."
While many sporting federations represent both men and women, examples of professional tours that do the same are thin on the ground.
"It's certainly something to work towards," said Pierrepont. "It makes a lot of sense looking at the next step in that progression from the Olympic decision. It's not something a lot of other sports have done.
"I think it's step by step because the overlap [between the men's and women's tours] is already there, and it makes sense if we're wasting resources."
It is an idea that appeals to Massaro, although she admits some of her contemporaries have reservations.
"The players are keen but we might need to be in a bit of a stronger position financially," she said. "There's a bit of a worry we'd get swallowed up, but my belief is we won't and we'd be stronger. I'm really keen for it. We can both benefit."
The issue arose when the leading men gathered for their annual general meeting in Manchester last weekend, and it seems that there is enthusiasm on both sides.
"I was surprised," admitted Gough. "I thought there might be more, 'We don't need them,' but they were very much aware that our next big task is bringing in more and more sponsors, and as we speak to all the big corporations it's all about equality in sport.
"You almost feel that unless we are joined up as one tour, getting that big fish, that big sponsor, is going to be difficult. It would be a really positive story."