Island Games 2013: Taylor braced for "ridiculous" heat on court
By Tim Pryor
BBC Radio Jersey
Last updated on .From the section Squash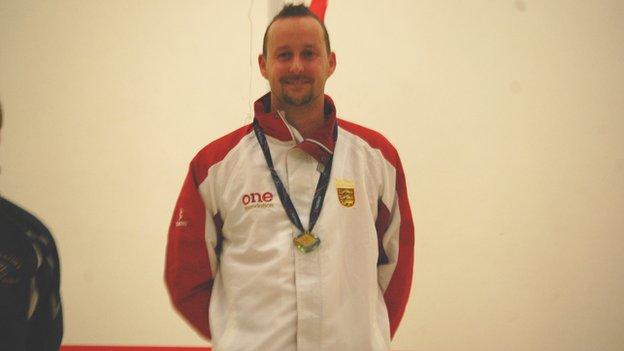 Experienced Jersey squash player Nick Taylor has warned the rest of his team to expect "ridiculous" heat on court at next month's Island Games.
Taylor, who moved to the Channel Islands five years ago, is the and also won the mixed doubles at the 2011 Games in the Isle of Wight.
The former world number 14 is one of five Jersey players heading to Bermuda.
"There's no air conditioning on the court," he told BBC Radio Jersey.
"It's going to be ridiculously hot on those courts, which means the matches are going to be longer and the problem is we can't replicate that.
"Cayman and Bermuda are the two strongest teams apart from us, and are used to those conditions.
"We have to just make sure we're doing the right things from a tactical and technical point of view and we don't have to be overly reliant on fitness."
Jersey won five of the six gold medals in squash two years ago, helping the island to third spot in the overall medals table and Taylor is hopeful of more success in Bermuda.
"It's going to be a very proud moment," he added.
"It does feel special to represent Jersey and all the team are very excited about it.
"The problem with myself is that I'm getting on a bit now so if I over-train, I get injured - I've got the find that balance. Touch wood, I'm feeling really good at the moment."
BBC Radio Jersey and BBC Channel Islands News will have coverage of the Island Games, which run from 13-19 July.