Canary Wharf Classic: Peter Barker beats Nick Matthew
Last updated on .From the section Squash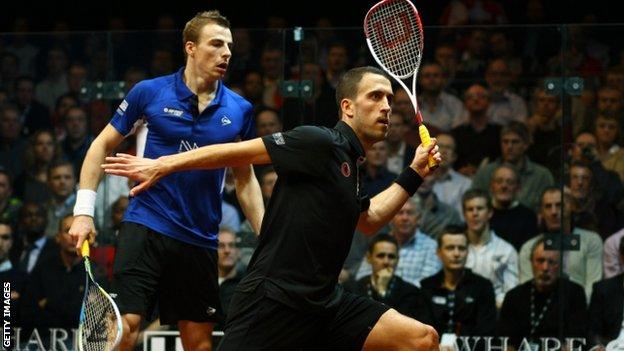 Peter Barker recorded one of the best wins of his career by beating top seed and fellow Englishman Nick Matthew to reach the Canary Wharf Classic final.
Barker defeated the world number two 11-9 11-9 7-11 11-8 in 69 minutes.
Twenty-nine-year-old Barker said he was "a little but lost for words" at his performance.
James Willstrop, the second seed, out-fought rising Egyptian star Mohamed El Shorbagy in the other semi-final, to win 6-11 11-8 11-9 11-7.
Essex's Barker, who had beaten Matthew just once in 21 PSA Tour meetings prior to Thursday's match, began strongly, taking a brutal and protracted first game.
He continued in fine form to add the second, showing his sportsmanship to return a point to Matthew with the scores at 8-8 after the referee apparently erred by calling Matthew's shot out of court.
Matthew hit back to win the third and seemed on course to take the match into a deciding set.
But Barker finished the stronger, taking the match when Matthew failed to retrieve a dying length shot to the backhand corner.
"I have had a few injuries this season and to put a performance in like that in front of my home crowd is very special indeed," Barker said.
"Hopefully it wasn't too brutal and I have a bit left in the tank for tomorrow."
Matthew later tweeted: "Congrats to Pete tonight, well deserved win and hope he backs up for a good final tomorrow."
In the earlier semi-final, 22-year-old Shorbagy - still a full-time student - exerted early pressure on Willstrop, taking the first game in 12 minutes.
But Willstrop hit back, with the Egyptian making three quick errors at the end of the second game to leave the match level.
The Yorkshireman pushed on to win a tight third game and came from behind to take the fourth, with Shorbagy again making two unforced errors in the final points of the match.
"He plays a very exciting brand of squash," Willstrop said of his opponent. "At this level it is subtle variations that make all the difference and I needed those subtle variations to break up his game."