Canary Wharf Classic: Willstrop, Matthew & Barker make semis
Last updated on .From the section Squash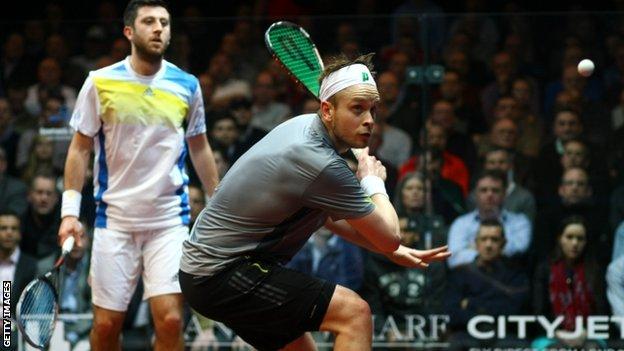 England's James Willstrop, Nick Matthew and Peter Barker progressed to the semi-finals of the Canary Wharf Squash Classic in London's Docklands.
World number four Willstrop, bidding to win the title for the fourth time, beat Daryl Selby 11-7 11-5 11-7.
Matthew, who has won at Canary Wharf for the last three years, dispatched South Africa's Steve Coppinger 11-6 11-4 10-12 11-3.
He will take on Peter Barker, who beat Tom Richards 8-11 11-4 11-5 11-7.
The only player standing in the way of an all-English final is Egypt's Mohamed El Shorbagy, the world number five, who earlier laboured to a narrow 3-2 win over Finnish qualifier Henrik Mustonen.
Shorbagy, who combines professional squash with university studies in Bristol, will play Willstrop in a keenly anticipated clash.
Willstrop dominated an increasingly frustrated Selby with what he described as "very clinical and accurate squash".
"Daryl is very tough, very durable and so I had to be very focused. I know I will have to step it up again in the next few days," Willstrop added.
Matthew played fast and furiously to take a 2-0 lead over Coppinger. But the improving South African rallied to take a tight third game, before Matthew quashed hopes of a comeback to set up a clash with Barker.
"Steve played very well and in the third game, it just shows that you can never ease up," Matthew said. "I was getting close to a 3-0 win but he came back strongly to win it.
"James and Mohamed looks like being a great game in the other half of the draw, but I will just concentrate on my own match."
Earlier, Mustonen, ranked 43 in the world, came within a few points of a major upset, as world number five Shorbagy recorded a stuttering 3-11 11-9 7-11 11-6 11-9 win in 52 minutes.
"He came out at a fast pace and just went for it, he had nothing to lose and he was just going for it," said the Egyptian.
"I played a good match and am proud that I was able to win. Sometimes when you are not playing 100% you just have to... find a way to win."
The Finn's performance saw him emulate the scoreline of the only other clash between the pair on the PSA tour which ended in a narrow 3-2 win for Shorbagy in October 2012.