Squash ready to join Olympics - Matthew & Willstrop
By Piers Newbery
BBC Sport
Last updated on .From the section Squash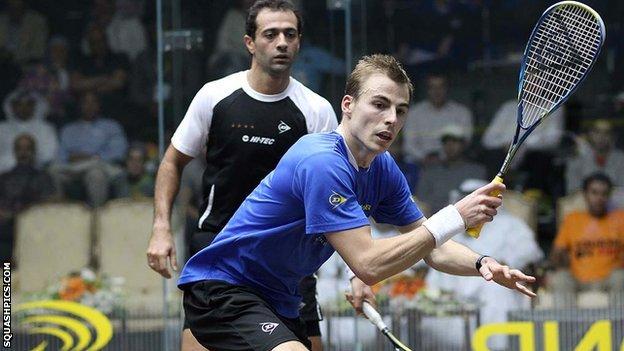 Nick Matthew and James Willstrop might have shared squash world titles and number one rankings, but both cast envious eyes towards darts at the turn of the year.
The contrasts between the two Englishmen and the likes of Phil Taylor go beyond the physical, with the latter a household name while Matthew and Willstrop continue to battle for recognition.
This year will be hugely significant for the future of squash as the International Olympic Committee decides in September whether to add it to the roster for the 2020 Games.
"We're English, we're sitting there in July with the world number one and two, the numbers two and three in the women, at the prime of our careers and there's a home Olympics - you just could not get any more depressing, to be honest," says Willstrop of watching London 2012.
"You go to Sports Personality and know you're sitting there as the world number one squash player and you've got nothing, no recognition.
"Had we been at the Olympics and won medals, you can't even imagine what that would have done for the profile of the sport. It's off the charts."
Matthew and Willstrop are in action at this week's World Series Squash Finals at Queen's Club in London, which has been moved to the start of the year to get television coverage for the final stages.
It is telling that this has given Matthew - a two-time world champion beginning his 15th year on tour - extra motivation.
"I don't think I've ever played live on TV in the UK," says the 32-year-old from Sheffield.
"I've always been injured or lost early - maybe I think about it too much. All around the world I've been live and at the Commonwealth Games, but not for a tour event. I'm telling everyone I know to tune in."
There are no such problems for darts, which enjoys annual television coverage throughout Christmas and New Year and has set a template for sports vying for exposure.
"You can't help but watch it and it's amazing entertainment, but it frustrates the hell out of me because I'd love squash to be prime time, even once a year," says Matthew.
"I'd love the atmosphere at squash to be half of that. I think we still have that thing where you have to politely applaud.
"If you go to American sports it's as much about entertainment as the sport itself. In squash there was always a stigma about being quiet during play, only applaud at the end of the rallies and people must sit still. We're gradually trying to change all that. People want to go and be entertained.
"I just envy the darts, the amount of activity on Twitter was huge. They're talking about it going for the Olympics now. I'm thinking, 'OK, but let squash get in there first!' We're getting a bit too far from the Olympic ideal of higher, faster, stronger.
"I understand what they're saying because the Olympics has got commercial now the golf is in, but they can do what they want as long as squash gets in for 2020. They can put tiddlywinks in!"
The fact that Matthew can hardly make himself heard over the thumping music in the arena suggests things are changing, and the temporary nature of the court allows squash to be played in settings as spectacular as New York's Grand Central Station, Hong Kong harbour and in front of the pyramids in Egypt.
Previous Olympic bids have stumbled over the quality of TV coverage, an issue that has been largely resolved through advances in court and ball technology, while the sport is growing beyond its traditional base.
World champions Ramy Ashour and Nicol David are big names in their respective home countries of Egypt and Malaysia, something that cannot be said of England's best.
"Lots of people in sport and the arts do not get the recognition they deserve, and that's just part of life," says Leeds-based Willstrop, 29. "Celebrity and fame is a very powerful thing, and squash players don't have that, but we just have to try and build the profile of the game.
"We're still getting it wrong but we don't have a lot of resources. Our administrators are doing two or three jobs and marketing is one of them."
Of course, fame can be a double-edged sword and Willstrop admits he might not enjoy it if he were quickly elevated into the celebrity stratosphere.
"That's the thing - I don't know that I would," he laughs. "I do love being able to walk down the street and I often think if you were recognised all the time that would really be quite draining.
"So I'm not sure, but I would like a little bit more attention for the sport because it's bloody hard!"