Squash World Open final: Laura Massaro beaten by Nicol David
Last updated on .From the section Squash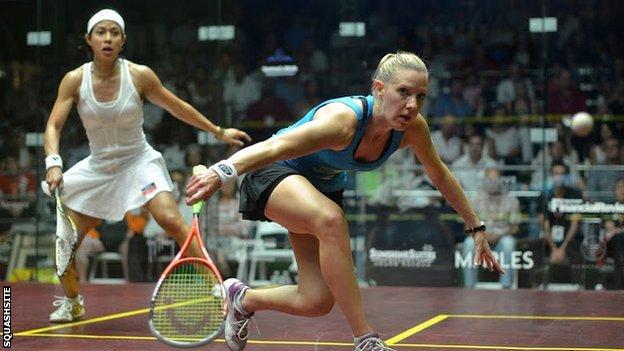 England's Laura Massaro was beaten in straight games in the World Open final by world number one Nicol David.
The Preston-based 29-year-old managed to force the Malaysian into long rallies and led 7-5 in the second game.
But David, also 29, completed a 11-6 11-8 11-6 in Grand Cayman for her seventh world title - and a fifth in succession.
"I'm proud to make the final but a bit disappointed I couldn't close out any of the games," said third seed Massaro.
"Congratulations to Nicol on another title. You have to work really hard to beat her; she doesn't lose very often.
"We're all working to get closer, but she steps up to the challenge to."
Great Yarmouth-born Massaro, playing in her first World Open final, added: "I've had a great tournament and a great experience here."
David said: "Laura played so well; she was pushing me on every point. I just couldn't relax at any time; she played a brilliant match today.
"I had to step up another gear to win. I just wanted to win so much."