Squash World Championships: Willstrop and Matthew into semis
Last updated on .From the section Squash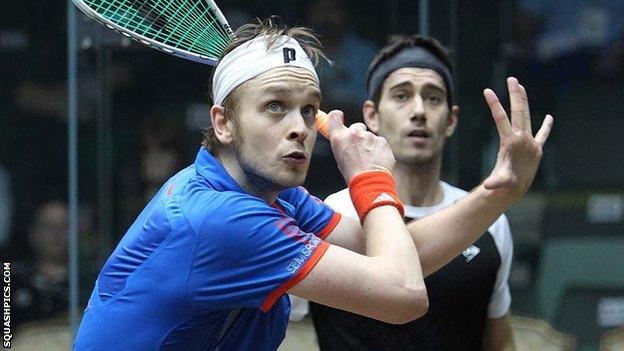 England's James Willstrop progressed to the semi-finals of the squash World Championships with a "ropey" victory over Spaniard Borja Golan.
The world number one had to abandon his usual fluency as he prevailed 11-7 11-7 11-5 against the tenacious 15th seed.
He will next play eighth seed Mohammed El Shorbagy, who beat fellow Egyptian Karim Darwish.
Defending champion Nick Matthew beat another Egyptian, Amr Shabana, 11-5 9-11 11-5 11-4.
The 32-year-old from Sheffield recovered from dropping a tight second game to win.
Matthew - chasing a third straight title - will play another Egyptian, Ramy Ashour, in the last four after the fifth seed upset third-seeded Frenchman Gregory Gaultier 3-2.
Former world champion Ashour won 12-10 10-12 11-6 9-11 11-3.
Willstrop, 29, maintained his bid for a first world title as he reached the semi-finals for the fourth successive year.
But his encounter with Golan was marred by no fewer than 57 decisions over collisions and disputes around the centre of the court.
"I'm delighted I have won, as one of the keys of winning, or of getting to the later stage, is to find a way of winning these ropey matches," Willstrop said.
"Yesterday [against Saurav Ghosal] was fluent, and the game was flowing, but today there was no flow at all. Probably people think I am a rhythmic player but I showed I can play when it's scrappy."
On one occasion Golan came out to the front of the spectator gallery and argued at length with the Egyptian referee Nasser Zahran, who ordered him to go back in to the court.
On another, Willstrop was warned that unless he cleared a path for his opponent, penalty points would be awarded against him. He responded by coming out of the court and saying: "I'm not sure what you want me to do, Nasser."
Afterwards Willstrop explained: "I tried not to get irritated. I just try to let him [Golan] do that. It's not great conditions when the rallies are being broken up like that, and he's shouting, and it's quite nasty.
"I have to concentrate on what I am doing, and there is no point in getting involved. I came off at one point and cleared up an issue, that's all."
El Shorbagy, the UK-based former world junior champion, came from 4-6 down in the first game, 5-7 down in the second, and 6-7 down in the third to overcome compatriot Darwish.