Jonathan Rea: BBC Sports Personality 2017 contender
BBC Sports Personality of the Year 2017
Date: Sunday, 17 December Time: 18:45 GMT Venue: Echo Arena, Liverpool Coverage: BBC One, Radio 5 live, BBC Sport website
We are showcasing each of the 12 contenders in the run-up to the Sports Personality of the Year award on 17 December. Today - Jonathan Rea.
Age: 30 Sport: Motorcycling
Year in a nutshell
Became the first rider to clinch three successive World Superbike titles, triumphing with five of the season's 26 races remaining.
Rea went on to break Colin Edwards' 15-year-old record for the number of points scored in a season, ending on 556. He was also made an MBE in the Queen's Birthday Honours.
The Northern Irishman's 16 wins in 2017 took his career tally to 54, just five behind the all-time record held by four-time champion Carl Fogarty.
Two-time World Superbikes champion James Toseland, who was fourth in the 2007 Sports Personality of the Year, on Rea:
"It's amazing to have that level of consistency, dedication and focus. It's unheard of.
"Jonny Rea won as many races this year as I did in my whole career. It's an incredible feat when you look at the stats. Racing at 200mph, you need a level of focus to not make a mistake.
"I think he can beat Carl Fogarty's record of four titles. He's definitely up there as one of the greatest superbike riders, without question."
How did he get here?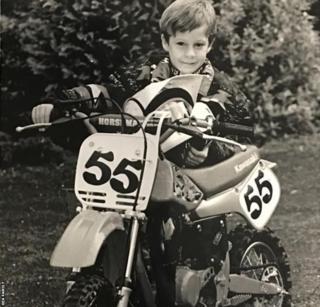 Rea grew up around motorbikes and had taken part in his first motocross race by the age of six (1/5)
The son of an Isle of Man TT winner, you could say motorcycle racing was in the blood - he rode a motorbike before a push bike.
Rea secured the British 60cc motocross title at the age of 10 and claimed his first race in British Superbikes by 20.
He has been a fixture in World Superbikes since 2008, racing for Honda for seven years before switching to Kawasaki in 2015.
Since then he has been dominant, winning 39 out of 78 races, and standing on the podium in 70 of those contests.
What he said: "This is a dream. This is my time and I have to savour the moment."
What you say
Lavers: Jonathan Rea is such a worthy candidate, not just because of his prowess, skill and bravery on the track but also because he is gentle, understated and a genuinely nice guy. Go Jonny go.
Aaron Wood: I'm voting @jonathanrea. Doesn't get the respect he deserves due to superbikes being a niche sport but he is a cracking champion and great ambassador for the sport.
Barry White: Jonathan Rea ticks all the boxes. Three-time World Superbikes champion and an all-round good guy with respect for his fellow competitors and a grounded attitude. A worthy winner.
Sports Personality record: First nomination. Motorcyclist Barry Sheene was third in 1977 after his second 500cc title.
Get Inspired
If you like fast-paced activities that get your heart pumping and your brain working, motorsport could be for you.
Visit the Get Inspired website to find out more on how to get into motorsport.
This article was originally published on 9 December, 2017.