Britain's female sporting stars can build a lasting legacy
Last updated on .From the section Sports Personality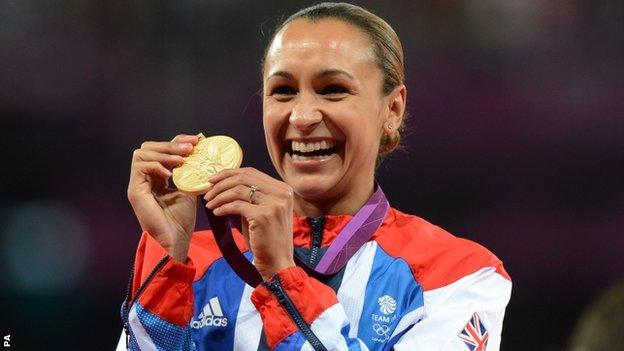 Jessica Ennis rounded off a vintage year for women's sport by winning the Sunday Times Sportswoman of the Year Award.
But the retired cyclist told BBC Sport: "There's such a range of female role models out there.
"That can only be a positive thing and as the years tick by - after 2012 there will be a lot more positive female athletes really making the headlines. Going into 2012 I thought this would be the year for the girls and it definitely was. We must capitalise on this."
Jessica Ennis, Sportswoman of the Year
What she did: World champion in 2009 and European champion in 2010, Ennis, 26, was the poster girl in the build-up to her home Olympics.
She set three personal bests in the first six events to lead the way to gold despite remarkable pressure.
What she said: "It means so much. It's been fantastic year. It was an amazing feeling to step out in front of 80,000 people and win. It was a brilliant year for women's athletics and female sport, so to win this award with so many amazing women out there is an amazing honour."
Jenny Archer, Coach of the Year
What she did: Archer has coached David Weir, who won four gold medals at the Paralympics, since 2002. The wheelchair athlete has described Archer as the "best in the world by far".
What she said: "I looked at his Wikipedia page the other day and finally realised what he's done. Being by his side it's been a roller-coaster ride and it's been lovely.
"I am called 'the beast'. I've got a group of juniors that come down and work with myself and David. Once they come in they know they're there to train. I can be brutal but we get results."
Ellie Simmonds, Young Paralympian of the Year
What she did: The Paralympian swimmer followed up her two gold medals in Beijing, when she was only 13, with two more in the 200m medley and the 400m freestyle at London 2012. She turns 18 on Sunday.
What was said: Karen Pickering, collecting the award on Simmonds' behalf, said: "It seems like she's been around for so long but she's only coming up to 18 in the next few days and she's already achieved so much."
Di Redfern, Community Award
What she did: A long-time volunteer for the Riding for the Disabled Association.
What was said: Sophie Christiansen, triple dressage gold medallist at London 2012, tweeted: "So delighted that Di Redfern won the @ST_sport Sportswomen of the Year Community Award. I wouldn't be where I am today without her."
Sarah Storey, Paralympian of the Year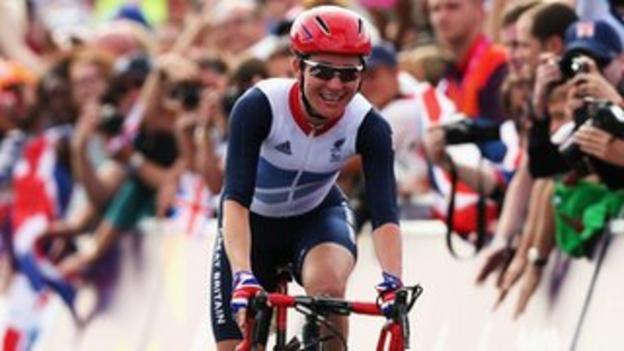 What she did: Her four gold medals at this summer's Paralympics took her overall haul to 11 golds. Storey, 35, won five gold medals as a swimmer in 1992 and 1996 before switching to cycling in 2005. She came close to making the able-bodied team, but instead won a four Paralympic gold medals.
What she said: "Now a lot of people are not really distinguishing between the Paralympics and the Olympics and are just inspired by sporting success. When I won three medals at Atlanta, I went back to university after the summer and people only realised what I'd done when I went on 'Noel's House Party'. Now we're much more in the public eye and we've been able to share that."
Sue Campbell, Lifetime Achievement Award
What she did: After 30 years of working with youngsters in sport, including spells with the National Coaching Foundation and the Youth Sport Trust, she was appointed as chair of UK Sport and awarded a CBE in 2003.
What she said: "I've still got plenty of energy and I'm still passionate about sport for young people. My term at UK Sport comes to an end in March but I'll continue to push for youth sport for as long as I'm able to."
GB team pursuit cyclists Dani King, Laura Trott and Joanna Rowsell, Team of the Year
What they did: King, Trott and Rowsell set a world record as they clinched gold in the pursuit at London 2012 in style.
What they said: King tweeted: "Gutted I can't make @thesundaytimes awards! In full time training for Glasgow World Cup next week. Thanks for the lovely comments. Takes me back to that moment. Best time of my life with @LauraTrott31 and @JoannaRowsell."
Claire Lomas, Helen Rollason Award for Inspiration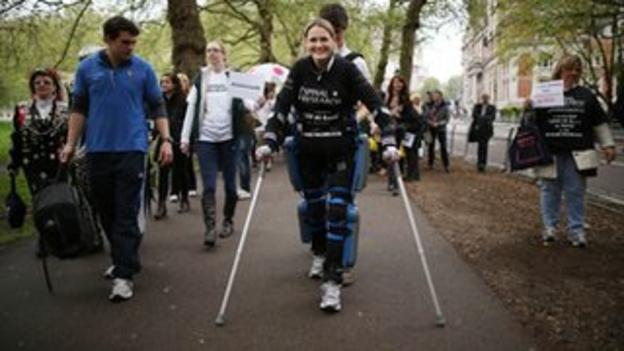 What she did: Paralysed from the chest down by a horse riding accident five years ago, Lomas completed the London Marathon in 16 days wearing a "bionic suit" earlier this year.
What she said: "It was amazing to win in front of all of those stars. I had the vest and everything and I just couldn't wait for the suit to come. I trained for 12 weeks which wasn't long but eventually I did it."
Jade Jones, Young Olympian of the Year
What she did: The 19-year-old from Flint followed up Sarah Stevenson's bronze in 2008 by becoming the first Great British athlete to win taekwondo gold with a shock victory over China's Yuzhuo Hou.
What she said: "Sarah's inspired me loads and she'll always be a legend. Every time I watch the final back it's mad and it brings back all of the emotion. It was an amazing feeling."
Katherine Grainger, Olympian of the Year
What she did: A silver medallist at three previous Olympics, Grainger, 36, finally won gold alongside Anna Watkins in the women's double sculls.
What she said: "The award means masses, especially because there has been such phenomenal competition for all of the women competing this year. There are so many role models and I feel a cheat because I'm part of a team.
"Beijing was the lowest point of my career and it's a four-year slog. I was lucky to get in a boat with Anna three years ago. Straight away it was very natural and easy and a lot of fun."
Laura Robson and Heather Watson, Young Sportswomen of the Year:
What they did: Last month Watson, 20, became the first British woman to win a WTA singles title since 1988 and Robson, 18, won a silver medal in the mixed doubles alongside Andy Murray at London 2012.
What they said: Watson said: "We're both very happy to receive the award. We've both had amazing years and hope it continues next year. To have each other on the tour... We're friends off the court, but we're competitive on it and we push each other along."