Sir Steve Redgrave given BBC Lifetime Achievement award
Last updated on .From the section Sports Personality
Olympic rowing legend Sir Steve Redgrave has been given the Lifetime Achievement Award at the 2011 BBC Sports Personality of the Year event.
Redgrave, who won five gold medals at successive Olympics from 1984 to 2000, was recognised for his huge contribution to rowing.
His long and extraordinary career has also seen an ongoing commitment to promoting sport in the UK.
He said: "I think the 2012 Olympics will be very special."
The Marlow rower is held in such high esteem that when the Daily Telegraph asked 2,400 surviving British Olympic athletes from summer and winter Games whom they considered to be the greatest British Olympian of all time, 58% went for Redgrave. Two-time Olympic decathlon gold medallist Daley Thompson was in second place with 13% of the votes.
But Redgrave's story is not only one of success but also of triumph over adversity.
Hindered by dyslexia at school, Redgrave turned to rowing at the age of 13 under the guidance of English teacher Francis Smith.
What followed is one of the great Olympic stories, as Redgrave won coxed four gold in Los Angeles 1984 and coxless pair gold in Seoul 1988.
However, in 1992, just 10 weeks before winning Olympic gold in Barcelona, Redgrave was diagnosed with ulcerative colitis - a chronic inflammatory bowel condition which, it has just been revealed, also affects Manchester United and Scotland footballer Darren Fletcher.
"It took a number of weeks to be diagnosed but I was lucky enough to be able to continue training, so my fitness wasn't too badly affected," Redgrave explained.
"If you're fit in the first place you have a better chance of getting back to full fitness.
"But it's a difficult illness to live with because the bowel is very sore, very inflamed, and you lose a lot of blood.
"I still live with it and take medication on a daily basis to keep it under control."
Undeterred, Redgrave pushed himself harder - going unbeaten for four seasons from 1993 to 1996 and winning his fourth Olympic gold medal in Atlanta in 1996 - after which he uttered the famous phrase: "Anybody who sees me in a boat has my permission to shoot me."
But after contemplating calling time on his career, Redgrave set his sights on a fifth Olympic gold, driven by an intense desire to be the best.
Team-mate Matthew Pinsent explained: "He put his family and body through hell to achieve what he achieved. Had he stopped after Atlanta he wouldn't have been remembered.
"Every interview, every journalist was asking, 'Are you going to win your fifth?' And every time he had to say, 'Yes I am'."
In 1997 at the age of 35, the nine-time world champion was diagnosed with diabetes. It looked like the decision had been taken out of his hands and his incredible rowing career would finally be over.
But, under the guidance of medical experts, Redgrave fought on, winning his famous fifth gold medal at the Sydney Olympics - alongside Pinsent, Tim Foster and James Cracknell in the coxless fours.
Pinsent added: "He knew it was the most important six minutes of his life.
"By the time he got his diabetes controlled as best he could, he was back to full fitness and I've never seen him pull harder."
For wife Lady Ann Redgrave, the diabetes diagnosis and build-up to the Sydney Olympics are still vivid memories.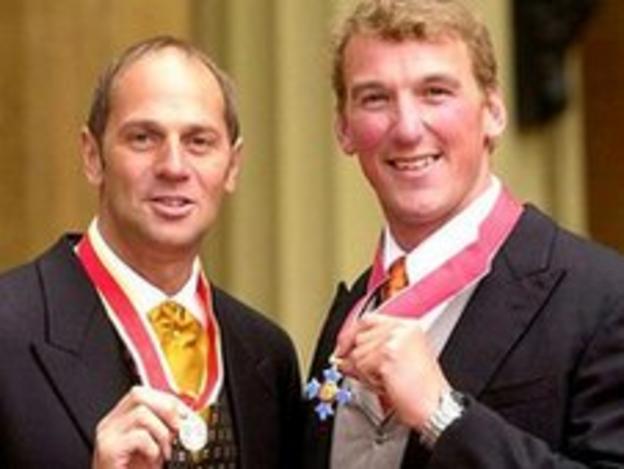 She said: "For us it was everyday life.
"In 1997 he became a diabetic. He would be the first to suggest that, if you weren't performing in training and in trials, then you actually didn't deserve a place on the team.
"There were difficult times in that four years up to Sydney. There was so much riding on it, it was very emotional and still is."
Following his astonishing success in Sydney, Redgrave won the 2000 BBC Sports Personality of Year award, before being given a Knighthood in the 2001 New Year's Honours List.
Since retiring from competitive sport, Redgrave launched The Steve Redgrave Fund in 2001, raising over £5m for charity.
He also played a key role in helping England to win the bid to host the Olympics in 2012 and is now committed to ensuring the event provides a lasting legacy for sport, as well as promoting the best of present day Britain around the world in the run-up to London 2012.
The Lifetime Achievement Award is the gift of the BBC and celebrates those who have made a significant contribution to sport and demonstrable success in their relevant sport throughout their careers.