Sportswomen criticise BBC Sports Personality shortlist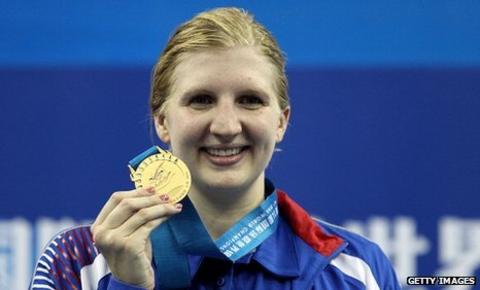 Some of Britain's top sports stars have criticised the absence of women from the BBC Sports Personality of the Year shortlist.
The list of 10 contenders was put together by a panel of 27 sports editors from national and regional newspapers and magazines.
Rebecca Adlington, one of those to miss out, expressed her dismay.
"There's been some great sportswomen like Keri-Anne Payne, it's sad they are not recognised," she wrote on Twitter.
"Hopefully next year can be all women nominations after [the] London 2012 [Olympics]."
It is the first time since voting for Sports Personality of the Year changed in 2006 that a woman has not been on the shortlist.
The 10 contenders in 2011 are (in alphabetical order): Mark Cavendish (cycling), Darren Clarke (golf), Alastair Cook (cricket), Luke Donald (golf), Mo Farah (athletics), Dai Greene (athletics), Amir Khan (boxing), Rory McIlroy (golf), Andy Murray (tennis), Andrew Strauss (cricket).
A public phone vote will decide the winner during the Sports Personality of the Year show on BBC One, which will be broadcast live from 2000 GMT on Thursday, 22 December.
The last female winner of the annual award was equestrian star Zara Phillips, who won the award in 2006 after claiming individual gold and team silver at the World Equestrian Games.
Adlington, who was third in the 2008 competition and won gold in the 800m at the World Swimming Championships in China earlier this year, earned six votes, one fewer than Khan, who made it on to the list, while Payne, another swimmer, achieved five votes.
Chrissie Wellington, who won her fourth Ironman world championship title in October, has also criticised the make-up of the list.
"No women in @bbcspoty top ten," she wrote on Twitter. "Its not about me, its about the need to celebrate achievements of so many female GBR athletes. Disgraceful."
A statement from BBC Sport said: "The panel consists of the sport editors of the nationals, selected regionals and magazines. These are selected because they cover a wide range of sport throughout the year. It is left up to each publication how they vote.
"This is the same voting system that has been used since 2006 and that, every year until now, has produced at least two women in the shortlist of 10. The decisions are based on sporting achievement and, in the opinion of that panel, this year has been stronger for those on the shortlist than other sports stars who have been omitted."
Keri-Anne Payne won gold in the 10k open water event at the World Championships and was named as the first member of the 2012 British Olympic team.
She wrote on Twitter: "Thanks for all your lovely tweets. It is a shame there are no women on the #SPOTY list but good luck to the boys though! We don't need awards just the support from the Great British public! So keep it coming."
Gail Emms, who won silver in the mixed doubles badminton at the 2004 Olympics, said she was annoyed that the likes of Adlington, Payne and Wellington had not made the list.
"Where are our WORLD CHAMPION women?" she wrote on Twitter. "Think that sportsmen and women should vote.
"Get the true feelings of the athletes who know what it's like to win medals and be number one."
Paralympic champion Baroness Tanni Grey-Thompson believes that it highlights problems in the coverage of women's sport.
"I wouldn't want tokenism and I wouldn't want a woman to be on the list just because she was a woman," she said.
"But I think you just look at where the nominations have come from and that highlights another problem really - only 2% of media coverage in sport goes to women."
Thompson added that women "just aren't on the minds" of editors or producers.
"You're fighting against the system all the time," she said. "It's the big sports all the time that get the recognition."
Karen Pickering, the BBC commentator and former world champion swimmer, agreed that the nominations reflect media coverage.
"It does indicate how sport is viewed in this country," she told BBC Radio 5 live. "It is very male-orientated; it's written for men to read.
"Maybe they need to look at a broader way of getting the votes in."
Dai Greene, the World, European and Commonwealth 400m champion, said he thought there should have been a woman on the shortlist.
"It's disappointing that there's no women on the list," he said. "If you were to substitute a few female world champions for a few of the guys on the list, I don't think anyone would have complained at all."
Lord Coe, who won the award in 1979, expressed his surprise that no women are on the list.
He said: "We have had Rebecca Adlington winning a world title in the world swimming championships, we have had other women world champions this year too."
The Manchester Evening News also attracted controversy for selecting the likes of Dimitar Berbatov, Yaya Toure and Patrick Vieira.
Sports editor Peter Spencer said: "The rules are, for starters, that you can nominate people who have predominantly plied their trade, i.e. sport, in this country. That's why Berbatov, for instance, is in because he scored the most goals for Manchester United when they won their record title.
"Yaya Toure has been selected by me - he scored those two significant goals for Manchester City at Wembley when they won their first trophy for 35 years, the FA Cup.
"Patrick Vieira, the most controversial of all, has lived in this country for well over a decade. He's done some grand work for City on the community side of things. I think he's a great ambassador."