BBC Sports Personality of the Year 2011 - How they voted
Last updated on .From the section Sports Personality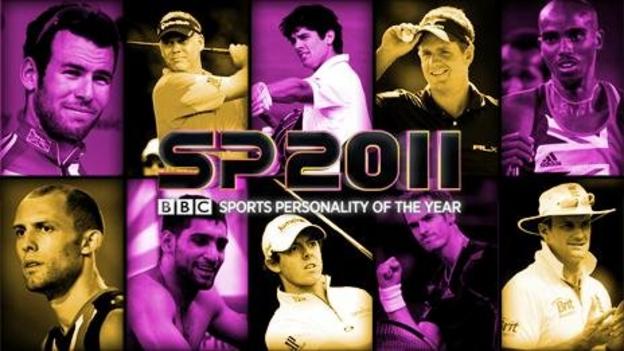 A range of sports experts from newspapers and magazines across the UK were asked to send in their top 10 selections.
They were then collated to determine the final shortlist of 10 contenders for the 2011 BBC Sports Personality of the Year.
A public phone vote will decide the winner during the show on BBC One, which will be broadcast live from 2000 GMT on Thursday, 22 December.
The nominations are listed in alphabetical order by surname.
Sunday Telegraph

Observer

Daily Mail

Rebecca Adlington

Mark Cavendish

Darren Clarke

Alastair Cook

Luke Donald

Mo Farah

Dai Greene

Rory McIlroy

Andy Murray

Keri-Anne Payne

Mark Cavendish

Darren Clarke

Alastair Cook

Mo Farah

Dai Greene

Rory McIlroy

Keri-Anne Payne

Andrew Strauss

Graeme Swann

Chrissie Wellington

Stuart Broad

Mark Cavendish

Darren Clarke

Alastair Cook

Mo Farah

Carl Froch

Dai Greene

Rory McIlroy

Stef Reid

Graeme Swann

Independent

Sunday Times

The People

James Anderson

Mark Cavendish

Darren Clarke

Alastair Cook

Luke Donald

Mo Farah

Dai Greene

Rory McIlroy

Andy Murray

Andrew Strauss

Rebecca Adlington

Mark Cavendish

Darren Clarke

Alastair Cook

Mo Farah

Rory McIlroy

Scott Parker

Sarah Stevenson

Sam Tomkins

Hayley Turner

Jenson Button

Mark Cavendish

Darren Clarke

Alastair Cook

Mo Farah

Amir Khan

Rory McIlroy

Andy Murray

Andrew Strauss

Sam Waley-Cohen

Irish News

Metro

The Herald

Mark Cavendish

Darren Clarke

Alastair Cook

Luke Donald

Mo Farah

Dai Greene

Amir Khan

Rory McIlroy

Sam Waley-Cohen

Sam Warburton

Mark Cavendish

Darren Clarke

Alastair Cook

Luke Donald

Mo Farah

Dai Greene

Amir Khan

Rory McIlroy

Andy Murray

Andrew Strauss

Mark Cavendish

Darren Clarke

Luke Donald

Mo Farah

Dario Franchitti

Dai Greene

Rory McIlroy

Andy Murray

Victoria Pendleton

Andrew Strauss

Evening Standard

Nuts

Daily Post

Gareth Bale

Mark Cavendish

Darren Clarke

Alastair Cook

Mo Farah

Dai Greene

Rory McIlroy

Andy Murray

Andrew Strauss

Graeme Swann

James Anderson

Alistair Brownlee

Mark Cavendish

Darren Clarke

Mo Farah

Carl Froch

Amir Khan

Rory McIlroy

Andy Murray

Scott Parker

James Anderson

Gareth Bale

Mark Cavendish

Darren Clarke

Dai Greene

Mo Farah

Rory McIlroy

George North

Graeme Swann

Sam Warburton

Sunday Express

Western Mail

Manchester Evening News

Ben Ainslie

Stuart Broad

Mark Cavendish

Darren Clarke

Alastair Cook

Luke Donald

Mo Farah

Kath Grainger

Rory McIlroy

Sam Warburton

Gareth Bale

Stuart Broad

Alastair Browlee

Mark Cavendish

Darren Clarke

Mo Farah

Dai Greene

Rory McIlroy

Andy Murray

Jamie Roberts

James Anderson

Dimitar Berbatov

Glen Chapple

Darren Clarke

Rory McIlroy

Keri-Anne Payne

Paul Scholes

Andrew Strauss

Yaya Toure

Patrick Vieira

The Mirror

Mail on Sunday

The Times

Alistair Brownlee

Mark Cavendish

Darren Clarke

Alastair Cook

Luke Donald

Mo Farah

Dai Greene

Rory McIlroy

Andy Murray

Chrissie Wellington

Jenson Button

Mark Cavendish

Darren Clarke

Alastair Cook

Jessica Ennis

Mo Farah

Rory McIlroy

Andy Murray

Dai Greene

Andrew Strauss

Alistair Brownlee

Mark Cavendish

Darren Clarke

Alastair Cook

Mo Farah

Rory McIlroy

Andy Murray

Wayne Rooney

Sarah Stevenson

Andrew Strauss

The Voice

Sport Magazine

Daily Telegraph

Nicola Adams

Darren Clarke

Hannah England

Mo Farah

George Groves

Rory McIlroy

Shanaze Reade

Louis Smith

Andrew Strauss

Sam Waley-Cohen

Stuart Broad

Mark Cavendish

Darren Clarke

Luke Donald

Mo Farah

Dai Greene

Rory McIlroy

Keri-Anne Payne

Sam Tomkins

Chrissie Wellington

Rebecca Adlington

Jenson Button

Mark Cavendish

Darren Clarke

Mo Farah

Amir Khan

Rory McIlroy

Andy Murray

Andrew Strauss

David Weir

Daily Star

Guardian

Daily Star Sunday

Rebecca Adlington

Alistair Brownlee

Mark Cavendish

Darren Clarke

Alistair Cook

Mo Farah

Dai Greene

Rory McIlroy

Keri-Anne Payne

Andrew Strauss

Ian Bell

Mark Cavendish

Alastair Cook

Mo Farah

Kath Grainger

Dai Greene

Rory McIlroy

Victoria Pendleton

Sarah Stevenson

Sam Warburton

Jenson Button

Darren Clarke

Lewis Hamilton

Rory McIlroy

Andy Murray

Scott Parker

Andrew Strauss

Graeme Swann

Sam Tomkins

Jonathan Trott

Zoo

Belfast Telegraph

The Sun

Jenson Button

Darren Clarke

Alastair Cook

Luke Donald

Mo Farah

Carl Froch

Amir Khan

Rory McIlroy

Andy Murray

Judd Trump

Rebecca Adlington

Mark Cavendish

Darren Clarke

Alastair Cook

Luke Donald

Mo Farah

Dai Greene

Amir Khan

Tony McCoy

Rory McIlroy

Rebecca Adlington

Jenson Button

Mark Cavendish

Darren Clarke

Alastair Cook

Luke Donald

Mo Farah

Dai Greene

Rory McIlroy

Andrew Strauss