Glasgow Tigers end KO Cup drought with first win in 22 years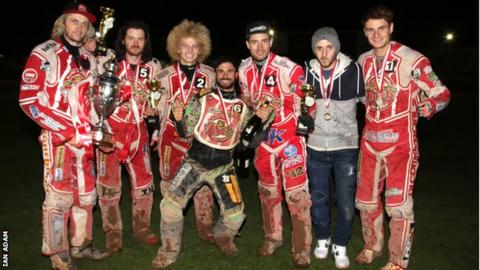 Glasgow Tigers believe their first KO Cup win since 1994 is the first of many speedway trophies after ending their title drought.
Team manager Stewart Dickson admits success at Ashfield Stadium is a relief.
"After losing out on the League Cup final there was no way we weren't going to win this," he told BBC Scotland.
"The first one was always going to be the hardest, but we've got it and can go from strength to strength now."
Tigers, whose last tournament win of any kind came in 2011, went into the second leg level at 45-45 with Newcastle Diamonds, but after a stunning performance from the riders across 15 heats they won 59-31 (104-76 agg).
"We've had to watch our neighbours in the east at Edinburgh [Monarchs] winning trophy after trophy, so it's nice to get off the mark," said Dickson.
Glasgow lost the League Cup final to Somerset Rebels and fell just short of a place in the Premier League grand final.
Captain Aaron Summers admits it has been frustrating, saying: "We've fallen a bit short at the last few trophy meetings.
"It would have been good to get them as well, but to walk away with nothing wouldn't have been the same.
"All the boys pulled together and that's what makes the difference not just one rider."
And the 27-year-old Australian also believes it will benefit the sport in Scotland, particularly Glasgow speedway.
"The change in the last few years from what it was to what it is now and this is just the start, there's more to come," he added.