Speedway: Max Clegg relishes Cradley Heathens captaincy
Last updated on .From the section Speedway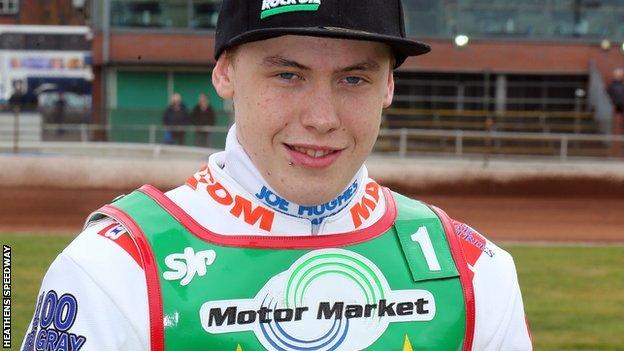 Teenage Cradley Heathens rider Max Clegg says he is fulfilling a lifetime dream after being named captain of reigning National League champions.
The 17-year-old will also be the club's number one in 2015 and is targeting more success at Perry Barr under his leadership.
"It's been my dream ever since I started with Cradley to become their number one and to be captain," he said.
"It's a pleasure knowing that I can be such a big part of the club."
Cradley returned to speedway as Dudley Heathens in 2010 and adopted the name of the original club - wound up in 1995 - two years ago.
Since then the Heathens have gone from strength to strength in the sport's third tier.
Cradley have finished top of the table every year since - with the exception of 2011 - and gone on to be crowned champions in 2013 and 2014. They also won the Knock-Out Cup last season.
"If I could guide the club to a hat-trick of league titles in my first year as number one and captain, that would be such a big thing and such an amazing achievement - it would be heaven for me," said Clegg, who made his Elite League debut for Leicester Lions last season.
"I think Mike Neale will have a good year and there's a lots of expectations from Ellis Perks.
"They will give it their best and if they do what we know they can do, then I don't think anything's going to stop Cradley again this year."
The Heathens begin their season on 18 March against the Birmingham Brummies, who have been revived at National League level after the former Elite League club folded in July 2014.