Wolverhampton ran out of patience with sacked Pawlicki
Last updated on .From the section Speedway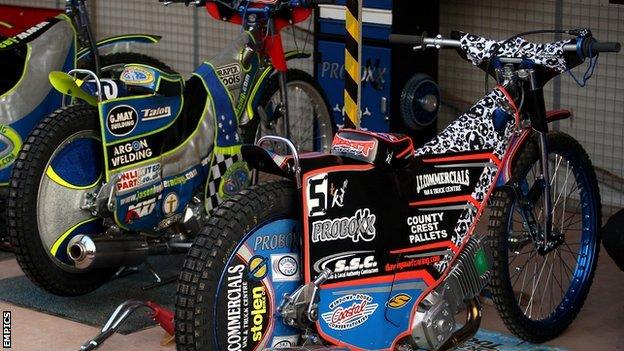 Wolverhampton boss Peter Adams says the club sacked Piotr Pawlicki because they did not believe his latest reasons for missing an Elite League meeting.
The Pole, 19, has not raced for Wolves since 4 August and had his contract cancelled after pulling out of Monday's clash with Leicester.
"He had an excuse but, basically, we don't believe him," said Adams.
"Eventually the medical excuses run out and and new ones come in - that was the case here - so we sacked him."
Pawlicki, who joined Wolves in December 2013, last rode in club colours in their 59-36 home defeat by Poole - a meeting in which he top-scored with 14 points.
Wolverhampton's remaining Elite League fixtures
Wednesday 3 September:
Poole (A)
Thursday 4 September:
Swindon (A)
Monday 8 September:
Eastbourne (H)
Despite making contact several times with Wolves on the morning of the fixture against the Lions at Monmore Green - which Wolves won 50-42 - his reasons for being unavailable were not accepted by Adams, who was unhappy at being without his key rider for the fifth Elite League fixture in succession.
"I suppose some clubs are willing to tolerate this kind of behaviour for a long time but, here at Wolverhampton, we're not so we had no hesitation in sacking him," he added to BBC WM 95.6.
"It's not fair on anybody. It's not fair on promoters who've worked very hard with him for a long time, not fair on his team-mates with the additional pressures his absence puts on the team or the fans who want to see the best riders.
"If he's not going to come and rider, there's no point in having him on the books."
Adams intends to use a mixture of using guest riders and the rider replacement facility to cover for the loss of Pawlicki for the rest of the season.
Wolves are seventh in the Elite League table, 11 points outside the top four with three meetings left and only a mathematical chance of reaching the end-of-season play-offs.