Coventry Bees owner rescues Peterborough Speedway
Last updated on .From the section Speedway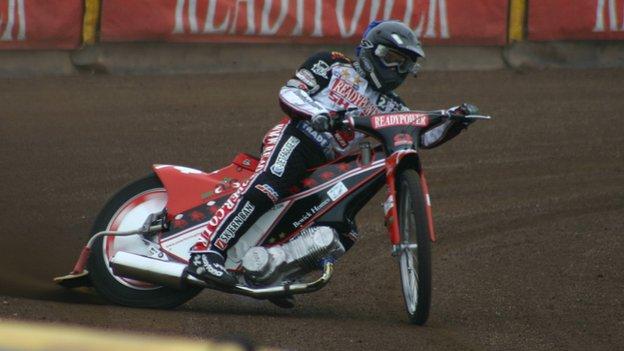 Peterborough Panthers have been saved from closure and will take part in speedway's Premier League in 2014.
Coventry Bees promoter Mick Horton has said he will head a "community-led consortium" to lease the club from owners Rick Frost and Julie Mahoney.
Ryan Fisher, Lasse Bjerre and Ulrich Ostergaard have been named as their first three riders for next season.
Trevor Swales and Mahoney will stay as co-promoters with the club continuing to race at the Showground.
The Cambridgeshire club, who won Elite League titles in 1999 and 2006, were put up for sale in November with the owners admitting concerns about the size of potential new sponsorship deals.
In a statement announcing the agreement, Horton said: "The most important thing through all of this has been that nobody wanted Peterborough Speedway to close down.
"It is, in my opinion, the finest racetrack in the country."
Horton, who previously owned Panthers between 2003-2005, will be joined in the consortium by former Peterborough rider Adrian Smith.
"I have experience of promoting at Peterborough and I'm very happy that Julie [Mahoney] and Rick [Frost] feel this is the right consortium to take the club forward," Horton said.
"We have agreed a two-year lease with an option to purchase.
"I still remain firmly committed to Coventry, there are exciting times coming there and I know there has been a bond between the two clubs and the supporters for some time."