Plymouth Devils boss Lee Trigger unsure of 2014 line-up
By Michael Tamblin
BBC Sport
Last updated on .From the section Speedway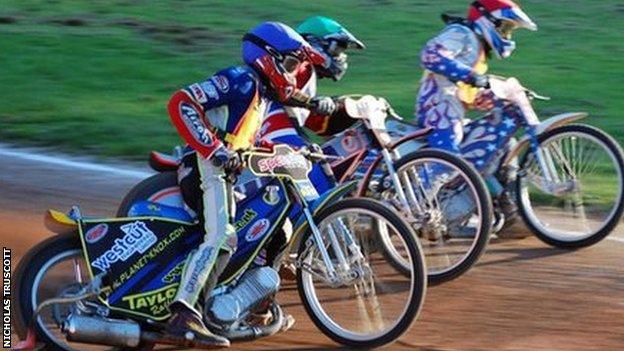 Plymouth Devils manager Lee Trigger is still deliberating the final make-up of his side ahead of the new season.
Ben Barker, Alex Davies, Kyle Newman and Roland Benko have so far agreed deals to join Plymouth in 2014.
"We have about four different scenarios," said Trigger.
"We haven't ruled out Jake Anderson returning, nor a three-pointer [a rider whose green-sheet average is 3.00-3.99]. It's a bit of a jigsaw puzzle, but we have lots of options."
Although not certain of his final line-up, Trigger is pleased with the team so far assembled for the new Premier League season.
"Ben is back and we know what he can do, he is great entertainment and can win from anywhere - he is a great foundation to build from," he said.
"Alex won the league with Somerset so knows what it takes to win things and although he improved his average last season we think there is still a lot to come from him
"Kyle is a fairly local lad and a really good gater which will help at Plymouth. I think he can improve and hopefully we can nurture him.
"Roland is a rider I've kept an eye of for a few months now and has big potential. He is only 18, so it's a risk, but he will become an asset of the club which is good for our future."
Despite Australian rider Davies putting pen to paper, that deal is subject to a work permit application, something Trigger hopes will not cause any problems.
"Alex is dependent on a work permit which we hope will be ok, but Sam Masters and Mason Campton had issues last year so that one isn't quite done yet," he explained.
With four riders named, Plymouth have just over 15 points with which to complete their seven-man team for the new campaign.
One of those is expected to be Australian Mark Lemon, who rode for the Devils last season, while Kalle Katajisto and Rasmus Jensen have also been targeted by Trigger.
"If it was down to me Rasmus would have been the first name on my team sheet. Signing him isn't dead and buried yet, but we would need external help to bring him over from Denmark," he added.