Plymouth Devils name four riders for 2014 campaign
Last updated on .From the section Speedway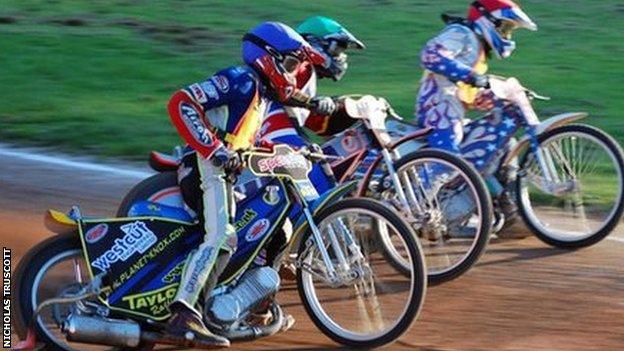 Plymouth Devils have named four of their starting seven riders for the forthcoming season.
Great Britain international Ben Barker re-joins the club after spending a season riding for Ipswich Witches.
Barker is joined by former Somerset riders Alex Davies and Kyle Newman, both of whom have displayed good form at the St Boniface Arena.
Hungarian teenager Ronald Benko, regarded as the country's finest young talent, rounds off the quartet.
Benko, 18, joins Plymouth on an assessed average having never raced in league action in the UK before.
Barker, 25, rode for Plymouth in each of their first two Premier League campaigns and topped the Devils averages in both seasons.
He left the club last term to join Ipswich after the Devils' future in the sport had been in doubt.
Australian rider Davies has spent the bulk of his career in British speedway at Plymouth's main rivals Somerset.
After his best-ever season in the UK, ending with an average of 7.38, he is likely to provide the main support to Barker.
Newman is no stranger to the St Boniface Arena, having ridden against Plymouth for a whole host of clubs including Weymouth, Bournemouth and most recently Somerset.
Like Davies, Newman leaves Premier League champions Somerset to wear Devils colours in 2014.