Darcy Ward returns to Poole Pirates line-up after injury
Last updated on .From the section Speedway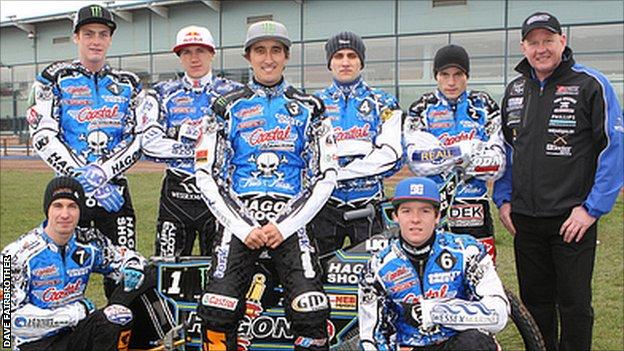 Australian star Darcy Ward has been re-declared in the Poole Pirates line-up following a successful return from injury last week.
Ward has been out since breaking his shoulder blade racing in the Swedish Grand Prix on 4 May.
"We've managed to fit Darcy back in, which good news for everyone concerned," Pirates team manager Neil Middleditch told BBC Radio Solent.
"Shamek Pawlicki will be the one to step aside."
Ward began the season at number one for the Pirates but struggled to re-produce the form that saw him top the Elite League averages last term.
"I'm not sure if he was over-trying but he didn't seem to be quite on the pace in the early part of the season," Middleditch said.
"But he's said himself that the injury may have been a good thing - it's calmed him down, allowed him to sit back and reflect and he's come through it which is good news."
Ward has returned from his lay-off in superb form, recording a paid maximum in the Swedish League and winning his first ever Grand Prix in Copenhagen on Saturday.
"We still had concerns over his fitness but to come through the Grand Prix the way he did, which was a really tough meeting, is fantastic news for us," explained Middleditch.
"We're at the point of the season now where things are pretty desperate for the Pirates, we've had a good run over the last few meetings and we've just got to keep that going.
"Unfortunately some riders have to step aside, that's just the way it is."