Glasgow Tigers sign Andre Compton & Jonas Raun
Last updated on .From the section Speedway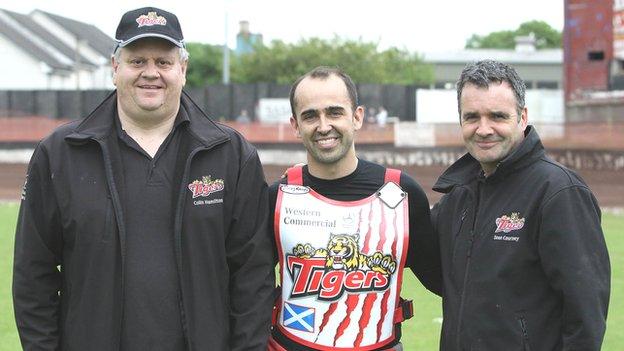 Glasgow Tigers have signed Andre Compton and the Danish rider Jonas Raun as they try to climb from 12th place in the Premier League table.
The Ashfield side have tempted the 36-year-old former Sheffield rider out of retirement to cope with the departure of James Wright and Harley Horwood.
Englishman Compton won the 2004 Premier League Riders' Championship before retiring in 2010.
He signed for the Tigers after racing in Sunday's Red Revolution Open.
Compton recalled that the Glasgow crowd had always given him a "hot" reception on his visits.
He said: "I think I had a bit of a coming together with former rider George Stancl at some point, and I can't even remember it, to be honest.
"I can just remember being booed like mad every time I came here!
"But even before the crowd knew I had signed on Sunday, it was nice to get a cheer. They seem quite happy to have me so I'm looking forward to it.
"I was missing racing this year, and got an opportunity to ride in David Howe's testimonial in May at short notice.
"I did that and really enjoyed racing, and I thought, 'I should look for a team place'.
"I've been fortunate that Glasgow can fit me in and I'm looking forward to joining them.
"I still had all my equipment to go and it all still feels fairly competitive. A little bit more practising and I'm sure I'll be there.
"I've just been working since retiring - I've got a couple of businesses, so I've been flat out doing that - and that's really been it.
"I had a little boy eight months ago, got married, so life's been a little bit busy.
"Now all that's out the way, it's time to come back racing."
Raun, 23, joins Glasgow Tigers with British racing experience with Newcastle, Belle Vue and Peterborough between 2006 and 2008.
Like Compton, he raced in Sunday's open meeting, finishing on nine points with two race wins.
Both riders line up for the first time in Glasgow colours at Ashfield on Sunday afternoon at 15:00 BST, as the Tigers take on Berwick Bandits.
Compton and Raun will help to fill the gap left by Wright, who has decided to take a break from the sport, and Horwood who this week returned to his native Australia due to family issues.